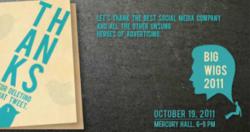 ...a ceremony that's as much fun for its hirsute extravagance as for honoring all of the under-the-radar efforts of the winners.
Austin, TX (PRWEB) December 08, 2011
The 2011 Austin Ad Fed Big Wig Awards were handed out recently and nFusion was proud to be named Best Website Development Company after the final tally of votes by its industry peers. The annual competition points the spotlight at people and businesses whose work isn't always publicly visible, then presents the awards at a ceremony that's as much fun for its hirsute extravagance as for the honoring of all the under-the-radar efforts of the winners.
"It's always gratifying to be recognized by our industry peers," says nFusion CEO John Ellett. "Our team has been creating business-boosting, consumer-friendly, award-winning websites for all manner of clients over the years, and it's terrific that they can share this recognition for their great work."
Winners were chosen in 26 different categories, from production companies to newspaper rep. Read the full list of winners here: http://www.austinadfed.com/extensions/addys
And check out the images from the awards ceremony — with all those crazy wigs here:
http://www.facebook.com/media/set/?set=a.10150364263742510.370158.173799227509&type=3
About nFusion
nFusion is an integrated, digital-centric marketing agency that provides the combined services of a marketing consultancy, advertising agency and interactive firm to companies serving customers in the B2C and B2B sectors that seek a trusted partner with a demonstrated history of helping clients to understand, embrace and thrive in a market environment of constant and accelerating change. The award-winning, Austin-based agency knows how to navigate today's chaotic, rapidly changing environment with marketing as dynamic as the marketplace itself and serves as a trusted partner and advisor to a wide array of organizations across multiple industries, including AMD, Anheuser-Busch InBev, Comerica Bank, Comcast, Nokia, Samsung and Zimmer Spine. nFusion helps clients cut through the clutter with award-winning, savvy campaigns that balance traditional media with cutting-edge digital capabilities. nFusion is headquartered in Austin, Texas, and can be found online at http://www.nfusion.com. Find us on Facebook at http://www.facebook.com/nfusion; tweet us at http://www.twitter.com/nfusion.
###