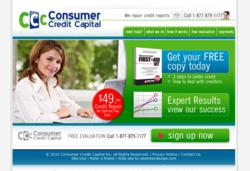 The Company has experience in dealing with creditors, collectors and credit reporting agencies. Visit the Company's website to download their Insiders' Report. In the report, learn how to deal with creditors and credit reporting agencies.
Tom Staley
Houston, Texas (PRWEB) December 07, 2011
Consumer Credit Capital launches their Clean Credit Repair Program. The program was developed based on thousands of hours of credit management experience, and relying on the Fair Credit Reporting Act, the Fair and Accurate Credit Transaction Act and the Fair Debt Collection Practices Act and other consumer protection legislation.
Consumers have a vital interest in establishing and maintaining their credit worthiness and credit standing in order to obtain and use credit. Consumers have the right to review their credit reports. The process starts with a review, of the information the credit reporting agencies maintain, through the lens of consumer protection legislation. Creditors that report to the credit bureau, and the credit bureau, have reporting requirements under both federal and state law.
Consumer Credit Capital has experience in dealing with creditors, collectors and credit reporting agencies. The Company's Program, features an evaluation with a credit specialist, focusing on five key areas: Judgments, indebtedness, charge offs, collection accounts and late payments. To qualify, an applicant must have income above expenses, commit to responsible use of credit and complete the credit repair evaluation within 48 hours of sign up. The Program includes development of a plan to fix credit using proprietary tactics, methods, strategies and expertise in credit repair.
Most lenders use credit scores to determine credit risk. The credit scores are based on credit reports the three main credit bureaus keep on file about consumers. As the credit bureaus update these records, credit scores change as well. The three credit scores affect both how much and what loan terms (interest rate, etc.) lenders will offer at any given time. Taking steps to increase credit score can help a borrower to qualify for better rates from lenders.
Learn how to deal with creditors; what lenders will never tell you. Visit Consumer Credit Capital's website to download their Insiders' Report. In the report, learn how to make Credit Repair Services work, including, what a creditor can and can't do when communicating a debt. For example, threatening legal action or their intent to get an attorney involved to pursue the collection when legal action is not typically initiated on the debts at issue because they are too small. Then attorney involvement in the collection of the debt presumably is not likely. To the extent this is true any implication to involve an attorney would be a violation of the Fair Debt Collection Practices Act.
Consumer Credit Capital, is a registered, bonded Credit Repair Company. Sign up at the company's website for the Clean Credit Repair Program and to get a copy of the Insiders' Report. If you'd like more information about this topic, or to schedule a credit repair evaluation, please call 877-879-1177 or e-mail assist(at)consumercreditcapital(dot)net.
###