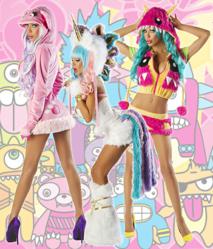 TotallyCostumes.com has welcomed the new line of fun and playful Josie Loves J. Valentine costumes with enthusiasm.
Mancos, CO (PRWEB) December 06, 2011
It is no surprise that a sexy costume collection was born when fashion icon and reality TV star Josie Stevens teamed together with renowned designer J. Valentine. Josie Stevens is more than just your classic rocker chick. This model rock n roll diva and wife of guitarist Steve Stevens creates fun wherever she goes. She has proven it again with her collection of new and unique designs which combine creative minds with Josie Stevens style and J. Valentine design.
If you flipped through the pages of the Josie Loves J. Valentine lookbook, you would be welcomed by the introduction "Delve into the world of Josie Stevens, where monsters run amuck and fashion is an addiction." TotallyCostumes.com has welcomed the new line of fun and playful costumes with enthusiasm. The monsters have been released and are running wild in the online selection of sexy costumes at TotallyCostumes.com.
With a sneak-peak debut at San Diego's Comic Con 2011, the sexy unicorn costume proved to be an instant hit and a best seller over the Halloween season. Josie Steven's Unicorn Costume features a strapless white lace-up corset and a matching white mini skirt with white faux fur hem and attached pastel rainbow fur tail. Accessories for this sexy fantasy costume include a matching Unicorn hood, unicorn legwarmers and unicorn gloves which are purchased separately. Like all of the J. Valentine costumes, this magical women's Unicorn costume is proudly made in the USA with high quality stretch matte foil and faux fur.
Consumers can put together a sexy Pink Monster Costume using Josie's Pink Monster Jacket, Mini Skirt and Monster Hood with Pom-Pom Ties. It is not that typical classic scary monster, but a flirty and playful ensemble that all ages can love. Other JLJV costumes from Totally Costumes include the Pink Bear, Panda Bear and a Josie Doll Cupcake Dress. TotallyCostumes.com reports that the Josie Loves J. Valentine costume collection comprises of three themes including Kawaii which is influenced by Japan's street fashion, rock n roll and sexy Sci-fi space age designs. Their selection of the Josie Loves J Valentine line include clubwear-inspired accessories that can create the perfect retro rocker chick costume such as the cage halter, cage skirt, shred leggings, metal leopard dress, light-up tutu, faux leather pants and faux leather mini dress.
In addition to the new arrivals of the Josie Loves J. Valentine collection, TotallyCostumes.com has also recently added the J. Valentine Christmas Costumes just in time for the holiday season. The festive selection includes Sexy Santa Costumes, Candy Cane Striped Top and Skirt Sets and clubwear-inspired bikini sets. Also becoming a signature piece to the J. Valentine costumes, customers will also find matching furry legwarmers that were designed to pair with the sexy Christmas costumes. Each set of faux fur leg warmers extend from the knee to the top of the foot and feature ties with furry pom-poms.
About the Company:
TotallyCostumes.com, a leading retailer of sexy costumes and costume accessories for all occasions, makes sure the party never stops! This e-commerce costume retailer believes in carrying a large selection of high quality costumes in all sizes, styles and themes to fulfill any party, costume or event requirement. They have a dynamic team that works together so their customers receive their order quickly. Their friendly customer care team is dedicated to providing their customers with diligent service while their shipping facilities work efficiently in shipping your order out as quickly as possible.
###