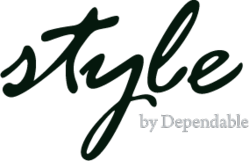 Quincy, MA (PRWEB) December 08, 2011
Style by Dependable, a custom couture and concierge dry cleaning service by Dependable Cleaners, is now available for home delivery in select areas throughout the Greater Boston region . Style's home delivery service will provide Greater Boston residents with the best dry cleaning services, innovative garment care and exceptional customer service delivered to their very own front door.
Whether it's a custom tailored suit, a designer gown, or a set of Egyptian cotton sheets, Style will skillfully clean and treat each fabric with the utmost care giving each item individual expert attention to ensure they are cleaned and restored with the proper treatments.
Style by Dependable boasts a staff of artisans with decades of experience in the garment care industry, who will inspect every garment closely to ensure appropriate cleaning techniques are used for each type of fabric and trim. Items are cleaned and pressed almost entirely by hand and superbly packaged to maintain their finish. Artisan Cleaning Services include:

Couture: Couture experts with extensive experience dealing with elegant beading and precious fabrics examine each garment to determine a treatment program and employ an array of proven techniques to gently clean delicate fabrics and extend the life of investment pieces.
Shirts & Laundry: Garments sent to Style are hand cleaned and pressed using a unique laundering process to carefully remove tough stains without damaging garments. Shirts are hand finished with special attention to collars and cuffs, which includes replacing collar stays to ensure a crisp, fresh finish of the shirt.
Leather & Furs: Style experts are trained to carefully clean leathers with a special process that won't remove the natural oils and dye found in leather by using advanced color correction and oil replacement techniques, keeping garments looking fresh and new.
Households: Style experts are experienced in caring for household items including draperies, antique rugs, bedding, table linens and delicate fabrics like silk, cashmere and Egyptian cotton.
Style by Dependable also has a team of experienced tailors who can provide an array of personalized services which include; Deconstructive & Reconstructive Services, Reweaving Services and Traditional Alteration Services, among others.
Style home delivery routes can be found at: http://www.stylebydependable.com/delivery
For more information visit http://www.stylebydependable.com
# # #