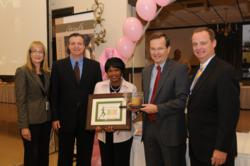 Youngstown, Ohio (PRWEB) December 07, 2011
Humility of Mary Health Partners is one of the healthiest workplaces in America.
The organization earned the Healthiest Companies in America Award for 2010 from Interactive Health Solutions Inc., Arlington Heights, Ill., and is one of only 44 companies in the country to receive the designation for 2010.
Awards are based on clinical evaluations of employee participants across an index of key health indicators following implementation of employer-sponsored wellness programs. Such programs encourage workers to adopt healthier lifestyles, which improves their health and thereby reduces the costs of their health care. Award winners demonstrated significant improvement in both the health of their workers and health care costs following implementation of such programs.
This is the third time HMHP has earned the distinction. In 2008, the first time HMHP offered a free health-risk assessment program, 30 percent of employees participated, reports Patty Melnykovich, HMHP director of employee health, wellness and safety. The following year, participation jumped to 50 percent. Last year, she continues, employee participation increased to 60 percent. "We hope to achieve greater than 80% this year," she adds.
According to a study by The American Journal of Health Promotion, employers who invest in worksite wellness programs experience a 28 percent reduction in sick leave absenteeism, a 26 percent reduction in the use of health care benefits, and a 30 percent reduction in worker's compensation claims. The study also found that employers experienced a savings of $5.93 for every dollar spent to promote health and wellness in the workplace. Savings were the result of greater worker productivity, lower absenteeism and reductions in the use of health benefits.
As a direct result of the HMHP employee wellness program, premiums for employee health insurance remained consistent from 2011 to 2012, adds Dana Walters, HMHP manager of benefits. In an era of rapidly increasing costs for care, premiums that remain unchanged are virtually non-existent, she observes.
About Humility of Mary Health Partners
Humility of Mary Health Partners is an integrated health system located in the Youngstown/Warren area. It is a region of Catholic Health Partners (CHP) in Cincinnati, the largest health system in Ohio and one of the largest Catholic health systems in the United States. HMHP provides a full spectrum of health care services, including inpatient, outpatient, emergency, urgent care, home care and long-term care. Members are St. Elizabeth Health Center, St. Joseph Health Center, St. Elizabeth Boardman Health Center, HM Home Health Services, The Assumption Village, Humility House, Hospice of the Valley and Laurel Lake. Learn more about HMHP online at http://www.HMpartners.org.
Pictured, from left to right:
Ann Rowland, business wellness manager, Interactive Health Solutions; Vincent O'Brien, vice president –business development, Interactive Health Solutions; Molly Seals, HMHP vice president – human resources; Bob Shroder, HMHP president and CEO; Joseph O'Brien, president and CEO, Interactive Health Solutions.
###