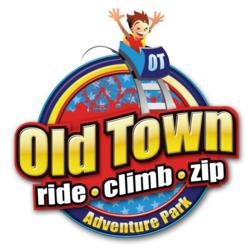 The addition of rides and attractions, including the new Pepsi AMPVenture Experience challenge course and zip line has further shaped our goal to have something enjoyable for everyone.
Kissimmee, Florida (PRWEB) December 07, 2011
There's a place in Central Florida where time has stood still for 25 years. Since opening on December 12, 1986, Old Town's (http://www.MyOldTownUSA.com) allure as a typical small town from the 1950's or early 60's has kept its status as a must-see destination for tourists and area residents.
Originally designed as a place for families to relax, dine and shop after a day at the large theme parks, Old Town has transformed over the years with the addition of the popular classic car cruises and introduction of rides and attractions; yet the entry price has never changed: FREE.
"Many perceive the 50's and early 60's as an era when the heart of America was small communities and times were good," said Gary Conroy, president of Old Town. "That loyalty and sense of belonging is captured in Old Town because of the passion and dedication of the shop owners and the cruise communities who help create the atmosphere our guests love. The fact that you can come enjoy without paying an entry fee makes it appealing for everyone."
To demonstrate its 25-year milestone, Old Town invites all visitors to share their memories of Old Town by posting photos on the theme park's Facebook page. The winning photos will be determined based on the number of "likes" received on Facebook. The top photo winner will receive an Old Town Family Pack including meals, rides and a ride in the popular car cruise. The 25th Anniversary Photo Contest details are posted on Old Town's website.
Many of the contest images may come from customers of the Old Town Portrait Gallery, one of Old Town's original merchants, where customers dress in period costumes for portraits with an antique theme. Charlotte Thompson says her late husband John, the portrait gallery's original owner, envisioned the studio being a place where families can have fun with each other in a laid back atmosphere while stepping back in history.
"We chose to open our family business here because Old Town's developers had a vision of a business community that felt like family, where merchants looked out for each other," said Thompson. "Despite some shops changing over the year, that underlying feeling of family still exists. We believe Old Town's new owners are committed to and have taken action to create the cohesive environment that will encourage our businesses."
Old Town is managed by Brothers Entertainment Management Group which has overseen operations of the amusement park for over a decade and in 2010 acquired all amusement assets and exclusivity of all amusement on property.
Another draw for families has been Old Town's renowned car cruises, the longest running, weekly automobile events in the world. Hundreds of classic cars cruise onto Main Street every weekend where people line the streets to see automobiles from as old as the 1940's.
"You'll often see the same people out there every weekend," said Dave Dean who has brought his classic cars to Old Town for 22 years. "Old Town is a nice place to gather where people are friendly and can relax."
"The addition of rides and attractions, including the new Pepsi AMPVenture Experience challenge course and zip line has further shaped our goal to have something enjoyable for everyone," said Conroy. "We are committed to Old Town's identity as a small town community from a nostalgic era. We will continue to focus on raising the standard in our appearance, merchants and events so that we provide all the great dynamics of a theme park in a small environment."
For the latest information about Old Town merchants, attractions and activities, visit http://www.MyOldTownUSA.com or check out Old Town's Facebook page. Old Town is located at 5770 West Irlo Bronson Memorial Highway (Hwy. 192) in Kissimmee. Operating hours are Sunday through Thursday, from 10 a.m. to 11 p.m. and Friday and Saturday, from 10 a.m. to Midnight.
###