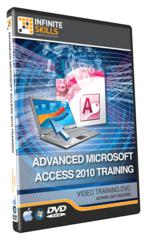 Take your Microsoft Access skills to the next level.
New York, New York (PRWEB) December 08, 2011
Software training developer InfiniteSkills Inc has now released an Advanced Microsoft Access Tutorial designed to help existing users fully realize the program's querying, reporting and relational database tools. The 75 lesson course includes 11 chapters that build on one another, aimed at providing a step by step way for viewers to go from a level of basic understanding to complete proficiency.
Advanced Access 2010 Tutorial Video - Training on DVD-ROM
"After releasing our first Access tutorial, we found that many users out there see it as just another icon in the Microsoft Office folder," said Colin Boyd, sales director for InfiniteSkills. "They know how to use it in a limited role that fits a narrow set of needs, but not much more. This course goes far beyond the basics, showing how to do more with queries and forms and interact with existing data infrastructure."
The Advanced Access 2010 Tutorial Video begins with a quick introduction to relational databases principles and course expectations before moving right into applicable techniques. Instructor Guy Vacarro helps viewers understand advanced queries and action queries, and offers tips for advanced form design, including the addition of navigational elements and search boxes. Subsequent MS Access tutorials look at the reporting features of the program, with tips on implementing images, totals, charts and graphs to offer compelling and complete summaries of critical data.
The Access 2010 training then covers productivity and efficiency within Access, including the use of custom Macros to expedite repetitive tasks, database backup and repair utilities, and quick options for encryption and security. Finally, the course closes with a guide to using Access 2010 with SQL Server, especially helpful to those requiring more robust data solutions.
"Once again, Guy delivers a tutorial that's right on target for the professional environment," said Chris Johns, content coordinator for InfiniteSkills. "Because of his background as a trainer, he knows exactly where to zone in for the biggest productivity gains, no matter what your field."
As the director of his own technology training consultancy, Guy Vacarro has helped individuals, groups and businesses of all sizes learn how to work with leading business applications for 15 years. In addition to Microsoft Access and the Office suite, Guy teaches how different technologies work together to increase operational efficiency and overall business productivity. In addition to the Access course, Guy has narrated over 10 other training videos for InfiniteSkills.
The complete Advanced Access 2010 Tutorial Video can be ordered on DVD-ROM or as an instant download from the InfiniteSkills website. The Access training retails for USD $99.95 on its own, or as part of a complete MS Access 2010 tutorial bundle featuring the 10-hour beginners course for $149.95. All versions of the training include usable project files that match course examples. A full list of topics covered and 18 free demos can be found on the Advanced Access 2010 tutorial page.
http://www.infiniteskills.com/training/advanced-microsoft-access-2010.html
About InfiniteSkills Inc
InfiniteSkills is a leading provider of professional video training solutions for the world's most popular software applications and programming languages. In addition to DVDs, the company offers its training via download, eLearning platforms and mobile apps.
# # #