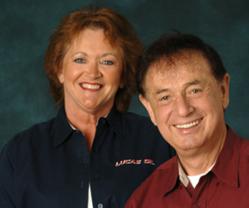 Forrest and Charlotte Lucas were no newcomers to philanthropic activities
Corona, CA (PRWEB) December 07, 2011
Dwight Cromie, Executive Board Member for the Greater Corona Valley Chamber of Commerce explained to Southern California CEO magazine what the Lucas Oil "BIG GAME" raffle was all about and how individuals could participate.
Cromie stated that, "Forrest and Charlotte Lucas are no newcomers to philanthropic activities. They have donated millions to nationwide charities and organizations." With the Super Bowl being held at their recently renovated Lucas Oil Stadium in Indianapolis, they have come up with a unique Super Bowl XLVI experience to commemorate the event and help local businesses during these hard economic times.
Lucas Oil Products is a manufacturer and distributor of automotive oil, additives and lubricants. It was founded by trucker Forrest Lucas and his wife Charlotte in 1989. The company is a sponsor of several NASCAR, H1 Unlimited, NHRA, Indy Racing League, Dirt Series, and Off Road Racing Series events. In September 2011, the company bought specialty television channel MavTV to promote their motorsport championships.
On February 28, 2006, Lucas Oil purchased the naming rights to the Lucas Oil Stadium in Indianapolis, Indiana for $120 million over 20 years. The facility opened in 2008 and is the home field for the NFL's Indianapolis Colts.
The raffle, explains Cromie, is for a pair of Exclusive Super Bowl XLVI ticket and is benefiting the community of the Greater Corona Valley. A total of 1000 tickets will be sold at $100 each.
The Grand Prize includes: One (1) pair of Super Bowl XLVI tickets, one (1) pair of tickets to the NFL Experience at the Indianapolis Convention Center, a $1000 Credit Card for travel, food and lodging, an invitation to a Private Exclusive Lucas Oil Super Bowl Tailgate Party at the recently purchased Historic Hilbert Mansion, and exclusive Lucas Oil Stadium Clothing.
Everyone that enters the raffle will win no less than (2) two Lucas oil vehicle products, retail value of $40. Odds of winning the Grand Prize are 1:1000.
What's unique is that the winner has the option to attend the event or sell/auction offer to another buyer or give the package away.
For information Contact:
Bobby Spiegel
info(at)mychamber(dot)org
(951)737-3350
###