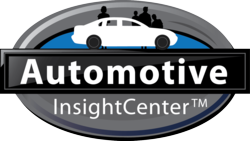 The App and InsightCenter monitors consumer automotive purchase plans and preferences.
Worthington, OH (PRWEB) December 06, 2011
A lot of ad dollars are spent on commercials showing people receiving a new car for the holidays wrapped up in a big red bow. But how many consumers are actually planning to purchase a new vehicle and of those, how many are considering a Lexus? Answers to these questions and more can be found in the Automotive Android™ Tablet App and InsightCenter™ from Prosper. For the first time marketers will be able to get a monthly look at the automotive market through the eyes of the consumer—what they are driving, what they are planning on buying, what they just bought, reasons for buying and which media influences them to purchase.
This app is a monthly update on the mind and heart of auto purchase intenders. Marketers can stay up-to-date about the brands consumers are considering, how much they plan to spend and how they perceive competitors' brands. The Automotive InsightCenter is unique because it pulls in monthly consumer insights from more than 8,000 consumers from BIGinsight™ and also pairs it with government data from the U.S. Department of Labor and the Energy Information Association to provide an additional layer of perspective such as how gas prices affect purchase intentions.
And it's not just intenders—the Automotive App and InsightCenter™ includes consumers' recent purchases (and why), what they drive most often and answers "The Ultimate Question" by providing Net Promoter Scores* for popular brands.
Click here to explore the Automotive InsightCenter™.
(Basic access is complimentary.)
Download the Free App on Your Android Tablet.
Click here for more information.
The Automotive InsightCenter is powered by Prosper Technologies™, a Prosper Business Development brand. With a tradition of innovation for over 20 years, Prosper has provided market leadership and developed contemporary solutions to help companies at the top of their respective industries navigate change that impacts their business. Prosper has developed solutions that provide answers to today's most urgent marketing issues.
About Automotive InsightCenter™
The Automotive InsightCenter™ illustrates how automotive purchase plans are changing, which brands are moving up and which are moving down, if current brand owners are planning to make a switch, how members of important automotive segments are feeling about the economy, and much more. It goes beyond traditional point-in-time data reports to trended insights in one easy-to-use, decision-ready format.
BIGinsight is a trademark of Prosper Business Development
Android is a trademark of Google Inc.
*Net Promoter, NPS and Net Promoter Score are trademarks of Satmetrix Systems, Inc., Bain & Company, and Fred Reichheld
Contact:
Chrissy Wissinger
614-846-0146
chrissy(at)BIGinsight(dot)com
# # #