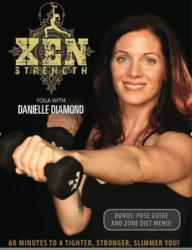 This is the TOUGHEST yoga workout ever!
New York, NY (PRWEB) December 08, 2011
At last, exercise devotees can get the intense calorie burn they want, without sacrificing the elements of yoga they love. In an overly crowded fitness market, Xen Strength Yoga stands out with a unique approach to traditional yoga. This revolutionary yoga program strategically incorporates light weights into a kick-butt, creative flow, for a program designed to sculpt, lengthen, and challenge, every muscle group.
The yoga world continues to explode, with over 18 million people taking at least one class a week. "Many of my students had been practicing yoga for years and then still going to the gym- they were tired of spending so much time working out. I developed Xen Strength Yoga© so they could incorporate the flexibility benefits of yoga with the muscle building effects of strength training in one class," says founder Danielle Diamond. Xen Strength Yoga also integrates the other 3 essential training elements recommended by fitness professionals: balance, core, and aerobic fitness. Watch the Xen Strength trailer here
In this DVD, Danielle guides you through each pose with precise alignment cues and detailed demonstration. She inspires you to work toward your edge and challenge yourself, while still honoring your current skill level. Filmed in an intimate studio setting, this program allows you to deepen your practice in the privacy and convenience of your own home, as if receiving private instruction from Danielle.
A glowing testimonial from one of Danielle's celebrity clients (from the back cover of the "Xen Strength Yoga" DVD)
"Danielle is one of a kind, and her new technique incorporating weights with yoga is genius! As an instructor, she is the perfect combination of tough and gentle, pushing you while always being really encouraging. She lights up a room and has great energy, which is incredibly infectious. " Bobbi Brown, Founder and CEO of Bobbi Brown Cosmetics
Proven Results You Can Expect From This Powerhouse Combination:
*Increased endurance and energy
*Increased muscle mass and bone density
*Increased flexibility and mental focus
The Xen Strength Yoga DVD Includes:
Three segments that can stand-alone or be combined for a 72 minute, all-over body transforming routine:
1. A rigorous warm up prepares you for a blasting upper-body and core strength training session
2. Intense core moves deliver balance training, functional fitness, and a slimming, detox, and twist routine.
3. The bottom line routine melts inches off your glutes, lifts your butt and lengthens and tones your legs, ending with a restorative and much needed cool down to slow down your heart rate and calm your mind.
Price $24.99 total running time: 72 minutes to order visit http://www.xenstrength.com
Danielle Diamond, E-RYT 500 hr, teaches a kick-butt class that focuses on alignment, and opens your body through a creative sequence designed to make you smile as much as you sweat. She is a FitFluential Ambassador, and is currently writing a book with Dr. Barry Sears, combining yoga and The Zone Diet. Danielle is the featured wellness contributor for Everything Bobbi, a new blog by Bobbi Brown, and was recently featured in her Pretty Powerful campaign. (learn more about Danielle Diamond)
Xen Strength Yoga© offers a unique approach to traditional yoga by combining a creative flow with light weights. This fusion provides a transformational workout designed to sculpt, lengthen, and challenge every major muscle group. Xen Strength builds muscle, increases flexibility, and boosts body confidence by taking your body further, faster-no matter what your fitness level. Designed with the five key training essentials fitness experts recommend*: aerobic fitness, flexibility, strength training, core exercise, and balance training, Xen Strength will enhance your body and performance— on the mat, in the gym, or wherever life takes you.
For more information on the new Xen Strength Yoga DVD, or to request an interview or on-camera demonstration with Danielle Diamond, please email hello(at)xenstrength(dot)com, or call 888.799.1085
###