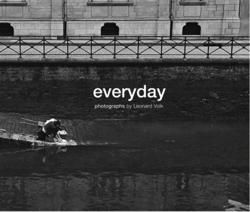 The images are more than visual; they are loaded with content and stories that evoke emotion rarely photographed. - Hal Box, FAIA, former dean of the School of Architecture at the University of Texas at Austin
Dallas, TX (PRWEB) December 09, 2011
New photography book "Everyday," by Leonard Volk, FAIA emeritus, and retired architect of Dallas, TX offers readers a rare look inside his collection of select photographs and essays from more than 60 years of personal photography.
A man with a camera and a passion. A scholar, an architect, and a visionary - Leonard Volk purchased his first camera in 1950 - a Leica Illc - in Limburg, Germany, igniting a passion for photography and discovery of his innate talent for capturing extraordinary yet often overlooked aspects of daily life.
"Everyday," explores the impact of the ordinary through the lens. "This series focuses on the familiar and the small, things usually screened from our attention," says Volk.
"When we notice the small, we sometimes find qualities and intensities harder to find in broader views of the world," states Volk. "Such discoveries make us aware that the world around us contains wonders and epiphanies."
"The images are more than visual; they are loaded with content, and stories that evoke emotions rarely projected. This is much more than a collection of excellent photographs; in a quiet way, it tells the story of everyday with high drama," says Hal Box, FAIA, former dean of the School of Architecture at the University of Texas at Austin.
"For me, making an image is only half the job. The other half is communication - sharing it with others, so that they may share my experience," adds Volk.
"Through the lens we find complexity, mystery, drama, poetry, humor, and beauty," says Volk. "Effects are often multiplied by analogy, metaphor, and our emotional responses."
Although the small and familiar have long been recognized as worthy subjects by photographers, Volk believes they are surprisingly neglected.
"Uniqueness fairly jumps from tiny objects and bits of landscapes," he says. "I feel inspired to hunt the significant ordinary."
The subjects of Volk's photographs range from household items to intimate human interactions, each as compelling as the next.
"His imagery is magically, vibrantly, lyrically, evocatively and, yes, obsessively – poetic. Architecture may have been the subject by which Volk chose to define a significant portion of his 'professional' career, but his concerns remain truly modern and touch upon all things from history, symbology, philosophy, music and, thank goodness, art itself," says Roy Flukinger, senior curator of photography at the Harry Ransom Humanities Research Center at the University of Texas at Austin.
In addition to taking poignant and meaningful photographs, Volk wrote extensively on his insight into the art from his many years as a photographer, a selection of which are included among the photographs.
Taking from his own experiences, he challenges readers to stretch themselves and reach for satisfactions in photography only they can recognize, further suggesting they start their own "Everyday" collection, finding a subject matter they care about strongly, that no one else would know to photograph, that no one else would photograph.
"Art, like flying, is freedom," says Volk. "I believe we are all artists if we allow ourselves that freedom."
"Everyday" is a collection of astounding photographs captured by a brilliant artist that will be a welcome addition to any photography lover's library.
"I offer this collection of photographs with respect and encouragement to each person just beginning to find his or her way in photography, and to each casual photographer who simply records family events, pets and trips," says Volk.
For more information on Volk and to purchase of copy of "Everyday," please visit: http://www.leonardvolk.com
# # #