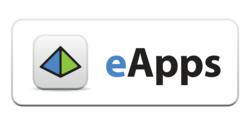 ISPmanager is an excellent control panel. Powerful and easy to use, it consumes few resources. The fact that it does not alter the OS configuration is a major benefit for our customers and technical staff.

Mohamed King, Mgr App Services
Norcross, GA (PRWEB) December 07, 2011
eApps Hosting announced the availability of ISPmanager, by ISPsystem, one of the leading web server control panels for the hosting industry in all Virtual Machine in the Cloud services, at no extra cost. ISPmanager allows customers to manage their entire Virtual Machine through a user friendly and comprehensive multi-language web interface. The simple, intuitive design of the interface allows users to efficiently administer system users, applications, mail boxes, databases, and much more. Furthermore, eApps has extended the capabilities of ISPmanager to allow for the rapid installation and configuration of the popular high end application services supported by eApps, including GlassFish, JBoss, Liferay Portal, and Tomcat.
ISPmanager has numerous features to help customers maximize their productivity. A summary of key features follows.
1. Best in Class server administration - Comprehensive and easy to use server administration functions that do not conflict with Operating System level configurations
2. Granular access control - Administrators can grant user access for domains and also specific control panel functions
3. Command line access - Built in SSH client (MindTerm)
4. Full control of processes - Restart and control services including web server and mail server
5. Server statistics - Bandwidth and traffic usage, and more
6. Database management - Manage local and remote DB servers
7. Backup management - Powerful and easy to use backup management
8. Much, much more!
To take advantage of ISPmanager, customers use the eApps Create-A-Cloud™ tool to create a Virtual Machine, and choose an OS Template designated with (ISPmanager CP). The ISPmanager control panel is built into the OS Template and will be started automatically when the Virtual Machine starts. Customers can then immediately begin administering their Virtual Machine with ISPmanager. To learn more or to take advantage of a significant discount on the first 3 months of a monthly subscription, visit http://blog.eapps.com/promotions/50-off-first-3-months-of-virtual-machine-service.html.
For additional information contact eApps Hosting at +1-770-448-2100 USA or +44 (0)20 8133 6940 UK, Skype: eappshosting, or visit http://eApps.com for on-line chat assistance. The Create-A-Cloud™ tool can be accessed at http://create-a-cloud.com/.
eApps Hosting is a value-added provider of cloud hosting services for businesses and organizations, serving more than 5000 customers, hosting over 15,000 domains in more than 150 countries. eApps Hosting offers a "true cloud" service running 32 and 64 bit Xen Virtual Machines for commercial-grade web sites, web applications and email services with highly personalized, responsive service. ISPmanager is a product of ISPsystem.
###