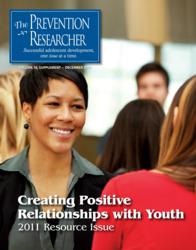 Overcoming our stereotypes and our judgments of others is the biggest barrier to creating positive relationships.
Eugene, OR (PRWEB) December 13, 2011
"Among professionals working with youth, the idea of creating positive relationships is paramount," says Steven Ungerleider, PhD., founding editor of The Prevention Researcher. "It underlies virtually all of the approaches used to develop adult-youth partnerships in various community settings."
In the new Resource Issue of The Prevention Researcher, eight researchers examine restorative practices within schools, creating partnerships between adults and youth in a variety of community environments, and creating positive relationships with diverse youth in a counseling setting.
In her article on "Restorative Practices: Giving Everyone a Voice to Create Safer Saner School Communities," Laura Mirsky, MFA, describes a proactive approach which works to prevent wrongdoing by youth, rather than only responding to wrongdoing once it happens. The so-called restorative practices, says Ms. Mirsky "engage students in supportive processes where they can take responsibility for their behavior and also includes proactive processes that build relationships and community."
A multi-part article written by Shepherd Zeldin, PhD. and colleagues features "Strategies for Sustaining Quality Youth-Adult Partnerships in Organizational Decision Making." It describes common themes, strategies, and lessons learned in four very different environments about fundamental design features which sustain quality partnerships between youth and adults. Dr. Zeldin's overview notes that "Adolescence is now being seen as a time for role exploration, relationships and belonging, and preparation for an unpredictable future." He says "many organizations are championing practices that engage youth in shared decision making and collective action with program staff and with community leaders."
In an interview by Meera Rastogi, PhD. with outpatient youth therapist Sheila Kapur, Ms. Kapur shares her experience and suggestions for professionals who wish to create positive relationships with diverse youth. She says "One of the biggest barriers is the class segregation in the U.S. It is easy when people live so remotely from one another to form stereotypes that are shaped by the media. Overcoming our stereotypes and our judgments of others is the biggest barrier to creating positive relationships."
The Resource Issue also includes reviews of books on building youth-adult partnerships in schools, perspectives on mentoring, understanding peer influences, and nurturing the inclusion of gay youth in mainstream society. In addition, the issue contains web resources and a subject index to articles in the past seven years of The Prevention Researcher.
"Creating Positive Relationships with Youth" is available in a complimentary digital edition at http://www.tpronline.org.
About The Prevention Researcher
Founded in 1994, The Prevention Researcher is published by the non-profit, Integrated Research Services in Eugene, Oregon. The quarterly journal focuses on successful adolescent development and serves professionals who work with young people in a variety of organizational settings.
Each issue of The Prevention Researcher covers a single topic, presenting the latest adolescent behavioral research and findings on significant issues facing today's youth. The journal provides information about programs that create supportive environments for youth, strategies for preventing problems affecting adolescents, and resources that help youth-serving professionals.
###