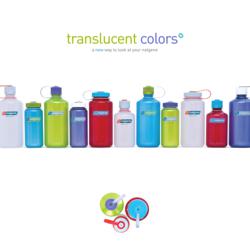 Rochester, NY (PRWEB) December 07, 2011
Just over ten years ago, reusable water bottle manufacturer Nalgene introduced its popular line of colored transparent water bottles that quickly became staples in backpacks, cupboards and cars across America. Today, the evolution continues as Nalgene introduces the Translucent Collection, a new colorful line complementary to the original Nalgene bottle that everyone's grown to know and love.
Manufactured in the USA, a reusable bottle has never looked so good now that the traditional Nalgene offers a choice between five dazzling new colors: translucent berry, frost, key lime, lilac and sky. The contrasting bright colored loop-top lids make for a bottle that will satisfy both your hydration and personal style needs.
In conjunction with all other Nalgene products, this line is BPA-free, dishwater safe and resistant to odors and staining. The 16-ounce ($9.00) and the 32-ounce ($10.20) bottles are now available at http://www.nalgene.com and in select retailers.
"Our original 32-ounce wide mouth bottle has been our most popular product for almost all of Nalgene's company history," said Eric Hansen, Director for Nalgene Outdoor. "With the new Translucent Collection, we wanted to listen to the demands of our fans and give them an updated twist on their long-time favorite. The collection has all the attributes that Nalgene fans have come to depend on and love, but comes with a modern twist that we think both long-time and more recent Nalgene fans will enjoy."
Engineered to Perfection:
Whether preference lies for the 32-ounce, 16-ounce, wide-mouth or narrow-mouth, there are advantages to all sizing combinations. All bottles in this collection are durable and have molded graduation marks for easy-to-read measuring of liquids.
Product Details Include:

Leak-proof
BPA-free
Molded measuring marks
Made in the USA
Resistant to staining
Won't retain odors
For more information on Nalgene's new Translucent Collection visit http://www.nalgene.com or http://www.Facebook.com/NalgeneOutdoor.
About Nalgene Outdoor
Nalgene, part of Thermo Fisher Scientific, was founded in 1949 as a manufacturer of the first plastic pipette holder and soon expanded its product line to include state-of-the-art polyethylene lab ware. Since then, Nalgene has been the leader in leak-proof, reusable hydration containers, and today offers the largest and most diverse selection of BPA-free reusable containers, including stainless steel. Through its eco-minded campaigns including FilterForGood, Refill not Landfill, and America's Least Wasteful Cities and its commitment to producing leak-proof and durable products; Nalgene aims to inspire a less wasteful way of life. Nalgene products adhere to strict FDA and ISO manufacturing processes that go above and beyond other reusable container companies' manufacturing standards. For more information, contact Nalgene Consumer Products or visit our website at http://www.nalgene.com.
###