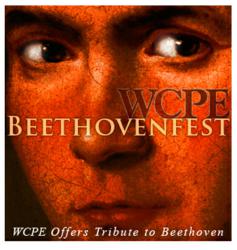 "Pay attention to him: he will make a noise in the world some day or other."
Wake Forest, NC (PRWEB) December 07, 2011
William Woltz, Music Director for WCPE, TheClassicalStation.org, announces today that in recognition of Ludwig van Beethoven's birthday WCPE is offering a Festival December 14 through 16, 2011.
Here is a listing of the Festival from Quarter Notes:
14 Wednesday
8:00 a.m. Overture to Fidelio
1:00 p.m. Symphony no. 8 in F
3:00 p.m. Piano Sonata no. 14 in C sharp Minor (Moonlight)
8:00 p.m. Symphony no. 3 in E-flat (Eroica)
10:00 p.m. Andante Favori in F
15 Thursday
8:00 a.m. Overture to Egmont
1:00 p.m. Piano Concerto no. 3 in C Minor
3:00 p.m. Symphony no. 5 in C Minor
10:00 p.m. Piano Trio in B-flat (Archduke)
16 Friday
8:00 a.m. Overture to The Creatures of Prometheus
1:00 p.m. Piano Concerto no. 5 in E-flat (Emperor)
2:00 p.m. Symphony no. 6 in F (Pastoral)
8:00 p.m. Symphony no. 9 in D Minor (Choral)
10:00 p.m. Piano Sonata no. 26 in E-flat (Les Adieux)
There exists an apocryphal story about Wolfgang Mozart's first meeting with Ludwig van Beethoven. During this meeting, the 16-year-old Beethoven played for Mozart. After he finished playing, Mozart turned to Emperor Joseph II and remarked,
"Pay attention to him: he will make a noise in the world some day or other."
The actual date of Beethoven's birth is not documented, but his infant baptism, also known as a Christening, held at his Catholic parish church was recorded December 17, 1770. It was customary in Catholic countries at that time to baptize infants the day after their birth.
Beethoven is the first composer to earn his living directly from his own work without being subsidized by a church or aristocrat. His piano-playing career ended in 1808 as his deafness became a detriment to his performances. Late in life, Beethoven began incorporating vocals into his musical compositions, laying the foundation for the Romantic Era in music.
WCPE's live broadcast of Great Classical Music, 24 Hours A Day can be accessed around the globe in several ways; on-line streaming in multiple formats, including IPv6, local cable television systems and traditional radio broadcasting. A complete list of the ways WCPE is available with instructions for cable and satellite reception can be found at: theclassicalstation.org/listen.shtml.
In central North Carolina and southern Virginia, WCPE is found on the radio at 89.7 FM.
For more information on WCPE, or to print a downloadable version of Quarter Notes, please visit TheClassicalStation.Org.
About WCPE:
Since 1978 WCPE 89.7 FM has been dedicated to excellence in Great Classical Music broadcasting. WCPE is one of the first community-supported stations to stream on the Internet. The programming is available on our own satellite channel and on multiple Internet streams, including IPv6. WCPE receives no tax-derived support, rather depends on tax-deductible support through on-air fundraising and mail-out campaigns. More information can be found at http://www.TheClassicalStation.org or by calling 919-556-5178.
Media Contact:
Curtis Brothers
919.556.5178
curtis(at)TheClassicalStation(dot)org
###