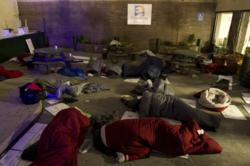 "A night of sleeping on the streets of New York pales in comparison to with what homeless children deal with every day," said Dr. Samaha.
Berkeley Heights, NJ (PRWEB) December 07, 2011
Simon J. Samaha, M.D., Chief Executive Officer of Summit Medical Group, spent the night of November 17, 2011, on a cardboard box on a Hell's Kitchen, New York City sidewalk. With temperatures hovering near the freezing mark, Dr. Samaha joined 50 influential business leaders from the New York metropolitan area for the first-ever Covenant House CEO Solidarity Sleepout in support of the city's homeless youth.
Earlier that evening Natalie Grant, Gospel Music Association Female Vocalist of the Year, kicked off an inspirational candlelight vigil ceremony at Military Island in Times Square. Dr. Samaha and business leaders from the New York Yankees, the National Basketball Association, Thomson Reuters, Oxygen Network,and Zelnick Media, among many others, then braced for a cold night outside Covenant House on 41st Street, just blocks from the Lincoln Tunnel and Port Authority Bus Terminal.
In a pre-event news release, Covenant House President Kevin Ryan noted, "These leaders have selflessly decided they want to walk in our kids' shoes and experience, if only for one night, some of what our kids go through."
For 40 years, Covenant House has provided 24/7 crisis care and on-going support for homeless young people in need of a safe haven. The Crisis Center at 460 West 41st St. feeds and shelters approximately 2,000 kids every night. Incorporated in New York City in 1972, it has since expanded to 21 locations in the United States, Canada, and Latin America.
"A night of sleeping on the streets of New York pales in comparison to with what homeless children deal with every day," said Dr. Samaha. "The Sleepout offers participants some understanding of what it must be like for these kids and helps spread awareness about what Covenant House does to help them."
The CEO Solidarity Sleepout raised more than $400,000 to support programs at Covenant House. Visit http://www.covenanthouse.org and http://www.ceosleep.org. for more information.
ABOUT SUMMIT MEDICAL GROUP
Summit Medical Group (SMG) is the largest privately held multispecialty medical practice in New Jersey. SMG has pioneered information technology advances in health care with its early adoption of electronic health records and e-prescribing. With more than 270 highly qualified healthcare providers, it is one of the most unique health care models in the state. SMG has an award-winning customer service program and NJBiz magazine has named it one of New Jersey's "Fifty Fastest Growing Companies". SMG treats more than 55,000 patients per month at its main campus in Berkeley Heights as well as its satellites in Berkeley Heights, Morristown, Millburn, Short Hills, Springfield, New Providence, Warren, and Westfield. As one of the East Coast's premier multispecialty groups, SMG has provided exceptional primary and specialty care since 1929.
###