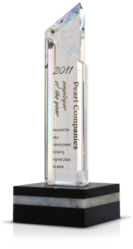 At Pearl Companies, we place emphasis on customers first. By doing this, everything falls into place, resulting in a successful operation and the utmost satisfaction of our employees.
Peoria Heights, IL (PRWEB) December 08, 2011
Pearl Companies has been recognized and honored as "Employer of the Year" by AAIM Employers' Association, one of the nation's largest employers' groups. This award recognizes outstanding employers that offer their associates exceptional working environments and opportunities in career development. The organizations honored by AAIM Employers' Association are commended for their inclusive and collaborative cultures, as well as their attention to employee job contentment and advancement.
"At Pearl Companies, we place emphasis on customers first. By doing this, everything falls into place, resulting in a successful operation and the utmost satisfaction of our employees," notes Gary Pearl, President and CEO of Pearl Companies. "I often say, 'It's all about the people.' In addition to providing excellent customer service, we strive to offer a world-class working environment. We not only take into account the level of gratification our associates derive from their day-to-day workplace and their entire professional career; Pearl also prioritizes the health and wellness of our coworkers. And as a family-owned business, we feel it is highly important to us for our employees to achieve a balance in their work and personal lives."
According to the AAIM EA, winners of this award are "employers that work with imagination and conviction to create organizational value and business results through their policies and best practices in human resource management." Three AAIM Employers' Associatio n awards were given based on organizational size. Winners were chosen through established criteria, including initiatives in each of the following categories: Effective Communication, Employee Input, Employee Development, Work/Life Balance, and Culture.
Pearl Companies was selected as Employer of the Year because of employer innovations such as regular employee satisfaction surveys, recognition programs, educational development, and career advancement initiatives. Additionally, the work/life balance philosophy behind the privately owned Pearl Companies contributed to the organization's being recognized for the Employer of the Year award. Pearl offers its associates generous health packages, as well as personal benefits and an open-door, friendly, and family-oriented culture. Finally, Pearl's commitment to the overall health of its employees was a major factor in receiving this honor. Associates from all of its business segments have access to the no-cost, full-service Pearl Fitness Center, complete with free training programs by a personal trainer on staff, exercise classes, and accessibility for all schedules.
As a premier place to work in central Illinois and beyond, Pearl Companies—which includes Pearl Insurance, Pearl Technology, Pearl Benefits, Pearl Automotive, and Pearl Carroll & Associates and conducts business in all 50 states and Europe—is continually offering new opportunities for employment in all career areas. Pearl invites all professionals interested in securing a position or advancing in their careers to view its current openings at http://www.pearlcompanies.com.
Pearl Companies is a privately held, multifaceted organization headquartered in Peoria Heights, IL. The Pearl Companies' commitment to working hard, working smart, and working together has not only placed them in the enviable position they are today, but has also secured them a strong presence in the marketplace for years to come. For more information, please visit http://www.pearlcompanies.com or call 800.447.4982.
###