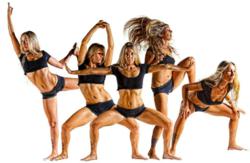 "Adding plyometric drills to my yoga practice drastically changed my figure and helped me bounce back after giving birth to my daughter"
Los Angeles, CA (PRWEB) December 12, 2011
BUTI™ has finally made its way to Los Angeles. After a year of constant email and social media requests begging for local BUTI classes, Founder Bizzie Gold has officially migrated from Hawaii to teach Angelenos how to workout BUTI-style. BUTI is a high-intensity workout that fuses yoga and dance with circuits of plyometrics and conditioning. BUTI dance moves are taken from various styles that focus on an intense shaking of the hips including Miami Booty Dance, Brazilain Baile Funk, Hip Hop, Crunk and African Tribal. Fans of BUTI report drastic results in a short period of time, including melting unwanted body fat and increasing lean muscle tone.
BUTI ™ creator Bizzie Gold spent years teaching "traditional" Hatha-based yoga, eventually evolving to incorporate various styles of dance, plyometrics, and conditioning in 2010. A mother with limited time (and an ex-Figure Competitor), Bizzie began experimenting with adding parts of her circuit-heavy gym routine into her yoga practice. The results were amazing -- sleek, toned muscles -- in the half the time. "It is the perfect workout for those who do not have time to maintain a solid yoga practice and hit the gym. Adding plyometric drills to my yoga practice drastically changed my figure and helped me bounce back after giving birth to my daughter," said creator Bizzie Gold. It turns out the ultimate trick to achieving the perfect physique -- intervals of dance-based cardio woven into a yoga "vinyasa," a Sanskrit word meaning flow sequence .
Each BUTI ™ class is 90-minutes and loosely-based on a yoga "vinyasa." BUTI seamlessly connects yoga poses to plyometric circuits and hip shaking cardio. Although BUTI utilizes a variety of dance styles, no choreography is used. Most classes use a maximum of 3 grouped movements at a time to keep things fast paced and easy to learn. Unlike traditional yoga, BUTI favors dynamic movements. When students move through yoga Warrior sequences, they incorporate hip circles of varying speeds to warm-up the core and engage the Quads and Glutes. BUTI utilizes interval training that lasts for the first 75 minutes. Throughout the class, attention is paid to stretching each muscle group worked to achieve faster recovery time. Each workout is finished with a yoga-based restorative practice and a 5- minute "savasana" meditation.
So one might wonder, what kind of music is played during a typical BUTI class? Bizzie laughs and says with a smile, "Yogis like Rap too! I get plenty of criticism for this element of BUTI -- but that's what kind of music makes me want to shake my hips." But Rap-haters fear not, Rap is only a small portion of a typical BUTI playlist. Expect to hear Electronica, Dubstep, Brazilian Funk Carioca (pronounced "Funky Karioka"), Reggaeton, Dub Reggae, House, and soul -- anything with a good bassline. Music seems to be a huge driving force behind BUTI's high-intensity calorie burn. "Students are constantly asking me for the playlists from class," Bizzie mentions. To make the BUTI "Jams" available to all, class playlists are available on their website http://www.butifitness.com.
How does BUTI differ from other dance fitness workouts? BUTI is not as freeform as many other dance fitness styles. "While we encourage individuality in our instructors' class styles, we train our instructors to follow a proven formula that gets results for our clientele. Each teacher training covers in-depth workout sequencing, anatomy, adjustment and injury prevention," remarks Bizzie Gold. Each BUTI instructor has been put through a rigorous 3-day teacher training that includes a challenging physical fitness test and a graded class review. Teacher Trainings are available in Denver, San Francisco, NYC, and Austin for 2012.
LA-area BUTI classes are just ramping up for the New Year. In addition to daily classes at Laughing Frog Yoga in West LA, expect to see classes available in a variety of gym chains and privately owned fitness studios citywide. Classes will also be available in Orange County at a variety of locations starting January 2012.
To find locations offering BUTI or to request adding BUTI classes to your class schedule, visit http://www.butifitness.com or follow BUTI on Twitter @ButiFitness. To view Laughing Frog Yoga's class schedule, please visit http://www.laughingfrogyoga.com
If you would like more information on BUTI Fitness or to schedule an interview with BUTI Fitness Founder Bizzie Gold, please contact Elisa Nathan 808.315.2171 or by email thebutik(at)live(dot)com
If you would like more information on the grand opening of Laughing Frog Yoga, please contact Chris Temkin at 818.434.6705 or by email at laughingfrogyoga(at)gmail(dot)com
Contacts:
Elisa Nathan
The Butik PR
4031 ½ Tilden Ave.
Culver City, CA 90232
thebutik(at)live(dot)com
808.315.2171
Chris Temkin
Laughing Frog Yoga
11870 Santa Monica Blvd. #208
Los Angeles, CA 90025
laughingfrogyoga(at)gmail(dot)com
818. 434.6705
# # #