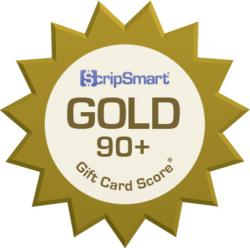 It's one of ways ScripSmart is helping consumers and making gift cards better for everyone.
Las Vegas, NV (PRWEB) December 08, 2011
Consumer gift card ranking service ScripSmart (http://www.scripsmart.com/) has announced the introduction of the Gold Gift Card Score Badge into the company's rating system. The new rating category is reserved for gift cards that rank highest for consumer friendliness and overall usability.
ScripSmart founder and CEO Judd Lillestrand said: "After receiving feedback from consumers and leading national merchants, we believe a gold category will resonate better with consumers when identifying best of breed gift cards. In particular, when consumers encounter Gift Card Scores outside of ScripSmart.com."
Bass Pro Shops and Cinemark, are currently displaying Gold Gift Card Score Badges to provide consumers added assurance their gift card programs has been verified and ranked at the top for consumer friendliness.
Mr. Lillestrand continued, "We want Gift Card Scores visible everywhere consumers are making gift card purchases. It's one of ways ScripSmart is helping consumers and making gift cards better for everyone." The company offers an electronic Gift Card Score Badge for use on merchant websites. One such company leveraging the new Gold Gift Card Score Badge is Cinemark (http://cinemark.com/gift-card-order.aspx). Usage of the badge is free of charge for any merchant listed on ScripSmart.com.
Bass Pro Shops will also display it's near perfect Gift Card Score in-store at Bass Pro Shop locations nationwide. "As a company, we're very proud that our gift cards rank at the top. We have always viewed our outstanding customer service as one of the attributes that set us apart and our terms and conditions on gift cards are just an extension of this attribute."
"Cinemark has been using the Gift Card Score Badge for several months now. It's great to see them be among the first to recognize the benefits for both consumers and their business. We're also very happy Bass Pro Shops wants to display their Gift Card Score; they're the first do so, in-store." said Mr. Lillestand.
Previously, ScripSmart designated top gift card ratings with a green badge. The green category will remain, but the gold will truly be the best of the best as this will be awarded to the gift cards scoring 90 or higher using the company's scoring algorithm. Those gift cards scoring between 80-89 will maintain a green badge and designation as a "great gift card".
About ScripSmart®
ScripSmart, Inc. (http://www.scripsmart.com) is the most comprehensive consumer guide to gift cards. The company reviews and ranks gift cards based on features, limitations and financial stability. Each gift card review on ScripSmart is supplemented with a Gift Card Score, a 100-point scale, reflecting the overall consumer friendliness of a gift card program. The company also offers free services to alert consumers of expiration dates, bankruptcy filings and allows consumers to share their most desired gift cards with friends and family. ScripSmart's mission is to make gift cards better.
###