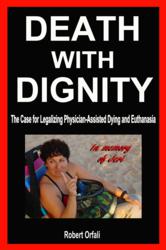 A lucid, powerful argument for letting dying patients go gentle into that good night.
— Kirkus Star Review
Minneapolis, MN (PRWEB) December 07, 2011
Kirkus Reviews, known for having the world's toughest book critics, has been fighting bad books since 1933. Says Robert Orfali, author of the recently published Death with Dignity, "It's an honor to have been named best of 2011 by the world's toughest book critics." According to Orfali, "Any open conversation about death and dying remains a taboo subject in our society. Hopefully, Kirkus' endorsement will help put the topic on readers' agendas." Dying in the age of chronic disease is an extremely complicated process that involves a lot of anguish, pain, and suffering. The lucky few will go suddenly. But the remaining 80% will not leave life the way they would have liked to: "at home and without needless suffering." According to Orfali, "Most of us will find ourselves navigating through a labyrinth of confusing end-of-life choices. We will spend our last days (often years) in sterilized 'torture chambers'—hospitals, nursing homes, and even hospices. Yes, the terminally ill needlessly endure torture at the end of their lives." Orfali concludes, "When it comes to our end-of-life choices, it pays to be an informed consumer."
Robert Orfali's recent book Death with Dignity: The Case for Legalizing Physician-Assisted Dying and Euthanasia is an in-depth exploration of the shortcomings of our end-of-life system. The reader will learn about terminal torture in hospital ICUs and about the alternatives: hospice and palliative care. With laser-sharp focus, Orfali scrutinizes the good, the bad, and the ugly. He provides an insightful critique of the practice of palliative sedation. The book makes a strong case that assisted dying complements hospice. Oregon, by providing both, now has the best palliative-care system in America. 
"Orfali approaches this agonizing subject with common sense informed by extensive research and an acute sensitivity to the dilemmas faced by dying patients and their families and doctors. The result is a thought-provoking contribution to the debate over this explosive issue. A lucid, powerful argument for letting dying patients go gentle into that good night."
— Kirkus Star Review
Robert Orfali, the guru of client/server systems in the early days of Silicon Valley, co-authored three best-selling books that demystified the complexity of these mission-critical systems and made them understandable to a whole new generation of programmers. The books sold over a million copies. In this book, Robert uses his analytical skills to deconstruct the most complex system he has yet encountered: our modern end-of-life system. He wrote this book after helping his soulmate and coauthor, Jeri, navigate her death from ovarian cancer in 2009. The deep emotions Robert felt allowed him to look at how we die from a different perspective, another angle. Robert also wrote Grieving a Soulmate. 
Paperback: 254 pages
Publisher: Mill City Press, Inc. 
Publication date: April 15, 2011
ISBN-10: 1936780186
ISBN-13: 978-1936780181
 
Paperback list price: $14.95
E-book list price: only $ 0.99 "almost free."
Book and e-book available from Amazon, Barnes and Noble, Apple Store, and others.
E-book formats include Kindle, iPad, iPhone, Nook, Android, and others.
Book website: http://www.DeathwithDignityBook.com
###