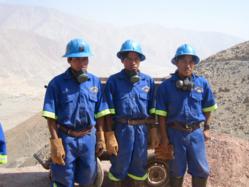 Santa Fe, NM (PRWEB) December 08, 2011
Reflective Images is proud to announce their new collection of fair trade gold wedding and engagement rings made by master artisan jewelers. These sustainable rings will be available in both their Santa Fe NM store and on their website, artisanweddingrings.com.
"A fair trade gold wedding ring is the most hopeful and transformative new product in the jewelry sector for decades," said Marc Choyt, President of Reflective Images. "We are our excited that our store and Artisan Wedding Ring website will now offer perhaps the most extensive collection of designer fair trade gold wedding rings that can be made in North America. Customers can now choose to have their custom wedding ring or engagement ring set made from recycled or fair trade gold."
Reflective Images, a pioneer in the ethical sourcing and production of jewelry, has been using 100% recycled metal, fair trade gemstones and Canadian diamonds in its jewelry for years. The company will be sourcing their fair trade gold from two mining cooperatives certified under the Fair Labeling Organization: Sotrami in Peru and Cotapata in Bolivia.
Reflective Images's initiative coincides with the filming of the company's Santa Fe store for an NBC's Rock Center December 5th segment, "Digging for gold, children work in harsh conditions paid with bags of dirt."
"Gold dug from mercury poisoned children is more common in jewelry products than people realize," said Choyt, whose company was featured as an example of a jeweler using traceable, recycled precious metal sourcing.
Choyt was also contacted by NBC because he is activist, journalist and spokesperson for fair trade jewelry issues in North America. He is Director of Fair Jewelry Action USA, a cross-sector, environmental justice and human rights network within the jewelry sector with forty supporting businesses and organizations. Fair Jewelry Action is dedicated to seeing a world in which jewelry, from mine to market, benefits the environment and everyone that touches it.
In October, Choyt, in collaboration with Ethical Metalsmiths, sponsored a summit of leaders in the ethical jewelry sector and NGOs at his home. He is currently working with key stakeholders to broadly introduce Fairtrade and Fairmined gold into the North American Market in 2012 under the Fair Labeling Organization and Alliance for Responsible Mining duel Fairtrade and Fairmined label—currently available in the United Kingdom.
###