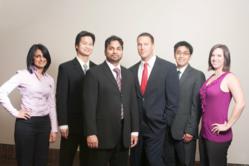 Health is a Journey not a Destination!
Dallas, TX (PRWEB) December 08, 2011
Dallas Chiropractor Dr. Yaron Lohr is pleased to announce the launch of the new Posture Perfect Wellness Center website (http://www.medicalchiropracticclinic.com), a website created to provide both medical and general information and tips about chiropractic and wellness services offered by the clinic.
According to the American Chiropractic Association back pain is pervasive among American adults. However, it is important to note that chiropractic is a health care profession that also focuses on disorders of the musculoskeletal and nervous systems, and the effects of these disorders on general health. It is used most often to treat neuromusculoskeletal complaints such as back pain, neck pain, joint pain of the arms or legs, and headaches.
"One of the main ideas for the website was to take the mystery out of visiting a chiropractor and to educate the general public," said Dr. Yaron Lohr. "Our goal is to provide our patients and those considering a visit to a chiropractor with the knowledge and importance of visiting a chiropractor regularly for overall wellness," added Dr. Lohr.
The website (http://www.medicalchiropracticclinic.com) includes information regarding back pain, what do if you're in a car accident, what to expect on your first visit to a chiropractor, videos and helpful information and tips to stay healthy. In addition to the general information provided, the new website brings a modern face to the practice of chiropractic care, which also complements the wealth of content available on the website.
About Posture Perfect Wellness Center
Posture Perfect is a leading chiropractic clinic based in Dallas, Texas. The practice is led by Dallas chiropractor Dr. Yaron Lohr. The practice is dedicated to finding solutions that will increase the overall quality of live for its patients.
For more information, please call 972.792.0204 or visit http://www.medicalchiropracticclinic.com.
Posture Perfect Wellness Center
5550 LBJ Freeway, Suite 150
Dallas, TX 75240
Tel: 972.792.0204
Fax: 972.792.0290
###