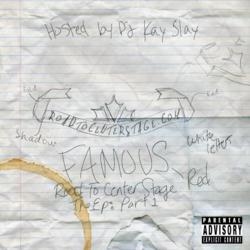 Miami, FL (PRWEB) December 07, 2011
Hip hop artist Famous recently released his EP "Road to Center Stage: Part 1." Coast 2 Coast Mixtapes presents the project, which is hosted by DJ Kay Slay and is now available for free download. "Road to Center Stage: Part 1" features Famous on tracks with Rich Kidd, Melanie Durrant, and Memphis Bleek. Production is added by Burd x Keyz, Boi-1da, and Tone Mason.
In his first year as a rapper, Toronto artist Famous was nominated for a Juno Award and MuchMusic Video Award for his debut EP, "The I RAP NOW" EP. The project, a very well-crafted, short play album, with contributions from Grammy-nominated producers Boi-1da and Tone Mason, spawned five songs, four videos, three radio hits, two major nominations, an MTV Live performance, a cross country tour, opening gigs with Nas, The Clipse, and Method Man and one "Best New Artist" award south of the border from 93.7 WBLK.
In the overcrowded world of hip hop, Famous' desire to be the best stands out like a neon shirt at a black tie affair. He's best described as what would happen if you mixed Kanye West with Eminem, coordinated by Fabolous' stylist, adding in the mind state of Puffy in the '90s, topped off with the determination of Ashton Bishop (aka Famous). It's that confidence that allows him to carve out his own lane in the rap game.
As a fan of hip hop music, Famous ensures that every single lyric is clear, true, and full of intentional meaning. Taking cues from Bob Dylan, Chuck D, and other prolific artists who concentrated more on their message, The Kid understands that his voice is a tool that can be used for the betterment of a generation, and he's not wasting a single breath. With many of the songs on his adventurous "Goddess Girl" focusing on various aspects of peoples everyday lives, the eight-part mini-movie/soundtrack (which he wrote and directed) became a viral triumph for the young rapper with views eclipsing the elusive six figure mark incredibly early.
Whether or not many people recognize it at first, there's something exciting that happens anytime a new artist like Famous comes along. The first steps all have a similar feel to them regardless of the performer, but there's just something different about the special ones.
"Road to Center Stage: Part 1" is available for free streaming and download at http://coast2coastmixtapes.com/mixtapes/mixtapedetail.aspx/famous-road-to-center-stage-ep-part-1-hosted-by-dj-kay-slay
###