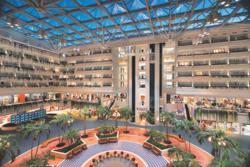 An eclectic array of menu items focusing on fresh, locally sourced ingredients that combine to produce a globally inspired menu.
Orlando, FL (PRWEB) December 07, 2011
Hyatt Regency Orlando International Airport recently opened Lobby Bar to complement its already powerful lineup of food and beverage options for hotel guests and airport travelers. Located directly above the security gates in the main terminal, Lobby Bar offers an eclectic array of menu items focusing on fresh, locally sourced ingredients that combine to produce a globally inspired menu.
Though a full dinner menu is available to guests, the centerpiece of the Orlando hotel's Lobby Bar menu is the Travelers Trio, a selection of small plates inspired by international street vendor food. Travelers Trio's are served in a tiered vessel, perfectly complementing the dramatic presentation of the food and designed for sharing. Popular Trios include Chilled Asian Chicken Lettuce Wraps, Canaveral Royal Red Shrimp Cocktail, Soft Baked Pretzels with White Cheddar-Gouda Cheese Sauce, and Chicken Pot Stickers. Lobby Bar also offers a full selection of authentic Japanese sushi including Sashimi, Nigiri, and Maki rolls created by Hiro Masaki.
Complementing the menu is an extensive selection of wines by the glass showcasing diverse growing regions such as: Sonoma County, California, Mendoza, Argentina, Tuscany, Italy and Marlborough, New Zealand. Drawing inspiration from Hyatt's Diamond Cocktail series, Lobby Bar offers a signature Diamond Mango Mojito made with Cruzan mango rum, fresh lime and muddled mint.
Opening daily at 4:00p.m and Sundays at 1:00p.m, the 80-seat venue accommodates guests in comfort with residential style seating as well as a traditional u-shape bar with high back chairs. Lobby Bar offers two communal tables to encourage guest interaction or for large groups up to twelve. Six high-definition, flat panel television screens are positioned throughout the space to provide guests with the latest news, weather, sporting events, and flight information. A six-foot, retractable screen can be lowered for viewing the game of the week. Complimentary WiFi is also available to Lobby Bar guests to remain productive during flight layovers.
"With the demands that come with travel these days we wanted to create an unexpected oasis for our guests to enjoy, whether staying with us for multiple nights or passing through the airport en route to a final destination" says hotel General Manager Pat Engfer. "Chef David Didzunas and his culinary team bring their passion for fresh, local ingredients to the plates of our guests each evening. We are excited to introduce Lobby Bar and further strengthen our commitment to being a viable, upscale alternative in the airport".
About Hyatt Regency Orlando International Airport
Hyatt Regency Orlando International Airport, a 445-room hotel, is located in the main terminal of the Orlando International Airport. It features upscale accommodations for business and leisure travelers, 42,000 square feet of meeting and exhibition space, two award winning restaurants, and a new StayFit@Hyatt gym. Reservations may be made by calling 1-800-233-1234 or visiting http://www.orlandoairport.hyatt.com .
# # #