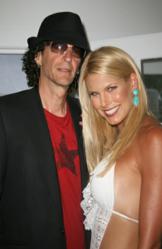 Stern in Most Powerful Celebrity of 2011... "Just ask the Stock Holders of Sirius XM what would happen if he left tomorrow."
Los Angeles, CA (PRWEB) December 08, 2011
Dirt.com, a worldwide Leader in Celebrity Gossip, Entertainment News, Celebrity Scandals, Hollywood Rumors, Movies, TV and More, today announced its much-anticipated Top Ten Most Powerful Celebrities of 2011 List.
For Dirt.com, "Powerful" doesn't automatically mean who has the highest bank account, who has the most website searches, or who has the power to push around the Hollywood elite. For Dirt's Editors, powerful means which famous people have the most influence in a particular niche. And the results may surprise you.
Shari Rock, Dirt's spokesperson says, "The people at Dirt really don't care too much about how much money a celebrity has. Most of them are overpaid anyway. What we care about in compiling our list is who we believe can, and does, influence the thinking, actions, and positions of a particular group of people."
Rock continues, "This is not a typical tired old list filled with the usual suspects. Our list represents the Celebrities who we believe can exert the greatest influence in our society, good or bad."
The Dirt.com 2011 List of The Most Powerful Celebrities is as follows:
10. Demi Lovato: It's been a whirlwind of a year for Demi. After suffering a breakdown, she landed in rehab and got help when people learned that she wasn't being very nice to herself. Since then, she's become a motivating inspiration to girls (and really, people generally) everywhere in discussing her fight against an eating disorder, mood disorder, and self-mutilation. Dirt saluted Demi for speaking out to help young girls everywhere.
9. Perez Hilton: Perez has done quite the 180. A former bully, he built a website off of name-calling and attacking the most innocent of celebrities. After being called out on his behavior while he was simultaneously advocating for anti-bullying, he changed his ways and is now a friend to the stars. We think a bully who becomes a real life role model deserves to make our list for 2011. Nice going Perez.
8. Charlie Sheen: Charlie was "living on the edge," if that's what you can call it, and using drugs and alcohol and saying horrible things about people he used to care about. A complete loser in our book. He was playing with fire and he got burned. However, there is a glimmer of hope that he has changed his ways, and maybe he can become a responsible and sober father, friend, and performer. If this happens, Sheen becomes one of the biggest turnaround stories in Hollywood history, and a huge influencer for 2011.
7. Mark Zuckerberg: Facebook… You may love it; you made hate it. But you can't deny the impact it's had on our culture. And yes, Zuckerberg is a celebrity. It's blown up from a site that was originally meant for college students to something now accessible to everyone and with more features available than we could ever imagine. If Zuckerberg really cares, he will turn Facebook into a business that changes the world for positive good. Time will tell, but Mark definitely belongs on this list.
6. Gabrielle Giffords: Gifford's has become a household name after surviving a horrific shooting but fighting back against the force that tried to destroy her. She's not the woman she used to be—she's even better. Stronger, wiser, and more determined than ever to get her life back on track and not let this prevent her from reaching her dreams. This woman can influence others who have had similar challenges, and is in the position to continue to positively influence an entire nation.
5. Britney Spears: Britney has perhaps made one of the greatest comebacks of all time. We were positive her career was over when she ended up in a psychiatric hold after months of drinking, drugs, partying, and destroying her chance at being a good mom and performance artist. But now? She's a whole new person, and we dig it! This young lady has a chance to lead by example and change the hearts of minds of millions who have loved her for years.
4. Betty White: At approximately 200 years old, Betty has had one of the most successful and long-lasting careers in the entertainment industry, and she shows no signs of stopping! She's still extremely active in the biz and continues to make us laugh our cabooses off. Betty, we salute you! Betty is well loved by people of all ages. One of our true multi-generational stars.
3. Kate Middleton: Kate embodies grace, sophistication, poise, and femininity. When you consider just how under the microscope she is, how her every move is photographed, studied, and dissected, you can't help but be amazed by how beautifully she's been able to handle the pressure. And what a selfless young woman she's proven to be. Kate has all the goods to be one of the world's great woman, and she is on her way.
2. Bill O'Reilly: The O'Reilly Factor blows away all comers and has for years. The "left" thinks he's a jerk; the "right" loves him, and the "independents" make up their own mind. One thing for sure: O'Reilly has power over his loyal watchers and readers, and the influence he has on the number one cable news show is undeniable.
1. Howard Stern: Howard has worn many hats throughout his career and he is a true legend. Why was Stern selected as our number one most powerful celebrity of 2011? Simply put, his fans make up a legion, and if Howard says sit, stay, or spin around, they do it. Sirius XM has a market cap of 6.7 Billion. Think about what happens to that market cap if Stern leaves today. Now that is power!
ABOUT Dirt.com:
Dirt.com is rapidly becoming a leading worldwide entertainment media brand.
The term "Dirt" is synonymous with gossip and opinion. In this context, Ernest Hemingway originally introduced the word in 1926 when he began using the term in the letters he wrote to friends referencing "Dirt" as gossip. Ernest was a notorious Gossip Monger and loved to not only dish dirt, but receive it as well.
Dirt.com has already been read by people in 178 Countries and brings a new approach to the entertainment landscape by publishing original editorial content whereby readers and writers co-exist by making the site their preferred platform for sharing opinions on News, Gossip and Entertainment. Dirt.com has been called the World's First Citizen News and Opinion Network.
# # #