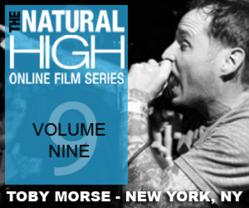 When kids want to fit in with their friends [they] try something that can turn [negative] in an instant and spiral into something else.
La Jolla, CA (PRWEB) December 07, 2011
Toby Morse, multi-successful, 'straight edge,' icon from Massachusetts can add yet another attribute to his resume, an interview on NATURALHIGH.TV, a series of mini-documentaries that showcase intimate conversations and a rare look into the lives of people who lead fun, successful and exciting careers without drugs and alcohol. "I was lucky enough to be inspired by a lot of positive music, skateboarding and the people around me," said Morse about his Natural Highs of music and life.
Morse is the front man, of 16 years, for the hardcore punk band H20 and motivational spokesperson and founder of One Life One Chance, an organization that tours to elementary, middle and high schools promoting Positive Mental Attitude (PMA) and a drug-free lifestyle. Morse's message informs students to break stereotypes, be a leader and maintain self-respect. In middle school he was the "crazy punk rock, skateboarding, break dance kid" that looked different from other cliques. "When kids want to fit in with their friends [they] try something that can turn [negative] in an instant and spiral into something else," stated Morse.
Morse's Natural Highs offer him the platform to familiarize fans and bands with the phrases PMA and 'straight edge,' a subculture that evolved out of the hardcore music scene in the late 1970's by those who were opposed to the relationship found in mainstream music with alcohol and drug use. People who are 'straight edge' do not smoke, do drugs or consume alcohol. Morse's dedication to fighting stereotypes has caught the attention of many music publications including, Alternative Press and Hails and Horns.
"I can't judge anyone or tell people what to do because I've never tried anything, I can't tell anybody the effects it has, I can just tell you the effects it had on my friends and my family and the people that I lost because of it," Morse states. Raised by a single mom and his older brothers, Morse shares his experiences around drugs and alcohol in his home, "There would be parties at the house, my brothers would be smoking and drinking around me. Seeing my brothers, the way they acted when they were high or drunk really scared me."
Morse feels empowered by the song "Attitude" by Bad Brains as it motivates him to inspire people and bring his two worlds together. He feels a familiar place and a sense of security when performing for H20 fans and stepping onto an auditorium stage for eager students awaiting his words of encouragement. "People who are telling you to do something you don't want to do are not your real friends," he advises his young audiences.
"The response has been amazing. I definitely [have] made a difference to some kids and have inspired them to be themselves and not give into peer pressure," expressed Morse.
View Morse's full interview about his Natural Highs at NATURALHIGH.TV.
Natural High, a 501 (c)(3) nonprofit organization. Natural High formally the Sundt Memorial Foundation began 17 years ago after La Jolla businessman Jon Sundt lost both of his brothers to drugs. Its most notable program is the Natural High DVD series, which is made available free-of-charge to schools.
###