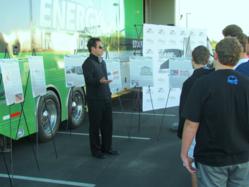 Scottsdale, AZ (PRWEB) December 06, 2011
What's the best way to teach high school students about sustainability? Get hands-on and place them in the role of a sustainability coordinator addressing real-world challenges. That's exactly what happened when the 70 foot, neon green,semi-trailer rolled onto the Scottsdale high school campus last Wednesday. Set up with a multimedia video room and 6 technology educational kiosks, the Race 2 Energy Independence (R2Ei) trailer demonstrated sustainability in action to freshmen through senior students.
"The most essential goal of the program is to get people thinking about energy in a different way," commented program coordinator David Slipher. "Energy affects us all in different ways, but everyone has something to gain by becoming more involved with the role it plays in their lives."
Getting about 45 minutes with each class, students were broken up into groups and rotated through multiple stations highlighting different aspects of sustainability efforts of the IzodIndyCar Series, the premiere partner of R2Ei. The first station gave a live demonstration of how solar power works, followed by an explanation of home energy efficiency and a Q & A session to address students' questions.
Next, students were invited into the modified semi-trailer where they participated in mock scenarios as though they were sustainability consultants advising IndyCar. Through answering software-based, critical reasoning and math questions, students gained a feel for the daily challenges faced in implementing a sustainability program for a large organization such as IndyCar. At the end of the day the software distilled all of the student responses into a consolidated report, which teachers will use to construct future lesson plans and discussion topics.
The final station in the multimedia theatre highlighted the 2011 season through IndyCar'ssustainability efforts. The students watched R2Ei spokeswomen Brittney and Cailie's coverage of all the race and community events they attended in the last year. Through online social media and R2Ei TV, the girls have sought to demonstrate that energy awareness can be fun and engaging, with something to offer everyone.
According to sophomore Ali Truman, the educational event demonstrated "that sustainability effects everyday life and it's easy to participate." Ali commented that her awareness has been raised and she will spend more time thinking about how energy affects her daily life. When asked what about the R2Ei tour makes this new perspective possible, she said, "Mostly because I didn't realize how easy it is to make small changes, and it ultimately saves money and resources for other uses."
Through interactive and technology-based learning assessments, R2Ei heralds a new message of sustainability and energy management. By emphasizing a fun and exciting atmosphere, combined with real-life energy examples, this tour is "dedicated to improving communities and schools, one event pit-stop at a time."
About Race 2 Energy Independence
The R2Ei tour was born from the vision to educate the public about the benefits of understanding how energy affects each of our lives. Through a non-confrontational and inclusive approach, the tour demonstrates the feasibility and freedom of putting smart energy practices to work for you. Everyone has something to gain (whether financial or ideological) by increasing their energy independence, and R2Ei ignites the spark of awareness that turns the energy "how" into "now".
About GreenFuel Technologies
GreenFuel Technologies is an integrated solar solutions firm specializing in solar power installations for residential, commercial, and utility clients. Also offering customized solutions for solar hot water, efficient lighting, building weatherization, and electric vehicle charging stations, GFT is a one-stop solutions provider for all of our clients' energy demands. As a vertically-integrated business, GreenFuel has the capabilities to handle every step of your project-from initial design to installation to post-completion customer support.
###