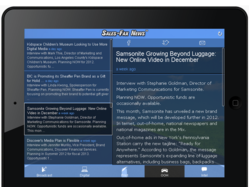 New York, NY (PRWEB) December 08, 2011
Sales-Fax News™, the most trusted source for contact information and in-depth intelligence about upcoming media buys, is rolling out an easy-to-use mobile news reader. The 'news' will be based on the dozens of media decision-maker interviews SFN's reporters conduct every week. The app is available now for Android devices. SFN Mobile for Apple will be available soon. Anyone can download the app now, free of charge, from the Android Market with this link http://sfn.mobapp.at/ or by searching SFN Mobile, Sales-Fax News, Ad Sales News, Advertising Prospects, etc. The free app is also available to install on any computer's browser with this link http://sfn.mobapp.at/.
"It's all about the now,' says Laurence Ross, Founder and Publisher of Sales-Fax News. Being able to read and respond while on the go with this new mobile app is just the next step for us in delivering news and intelligence to our subscribers that they can act on now.'
About SFN:
SALES-FAX NEWS is an online ad-business daily published exclusively for sellers of advertising, sponsorships or marketing services. The focus is on what representatives of the best known media need to know NOW to get their most competitive proposals to the right people before planning --- and buying --- are complete. Our staff of reporters interview decision-makers, as well as influencers, at the Brands and Agencies to determine who's in planning; who will be planning soon; or who buys special media opportunities after a campaign has launched. Subscribers are also supported by the unique Power Brands & Agencies Directories, which features key contact & planning information to help you with prospecting, and contact management. All SALES-FAX NEWS content is compiled via interviews and research by the employees of Ad-Fax Media Marketing, Inc. located at 149 Madison, Suite 801, NY, NY 10016.
For more information, contact: Ashley Gaudioso, Manager of Subscriber Relations, (212) 684-9665 x204
To learn more about SALES-FAX NEWS visit: SALES-FAX.COM
###