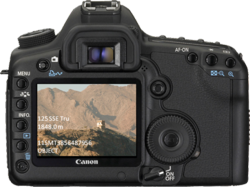 Capture GPS coordinates of a distant object with a press of the shutter button.
Carlsbad, CA (PRWEB) December 07, 2011
GTS expands product line of GPS-enabled digital cameras capable of taking geo-tagged images with advanced photo-capture capabilities such as obtaining GPS coordinates of distant objects, tagging images with attribute data, and exporting image files for integrating with popular mapping applications.
Current GTS firmware which facilitates these capabilities is currently only available on select Ricoh cameras. However, in Q1 2012 the firmware will be available on a broad array of Canon models as well. "This product extension will allow GTS to provide a much wider selection of cameras to better meet the unique needs and budgets of our military, federal, and commercial customers," reports Matt Kidd, President of GTS.
Some noteworthy features that will come with the soon to be released customized Canon cameras include compatibility with laser range finders for capturing "object location", geo-tagging of the camera's position, image attribute tagging or "memo tags", automatic data imprinting on photographs for visual recall, and image file exporting for seamless image mapping in programs such as Google Earth, ArcGIS, GeoRover, TIGR, and FalconView.
Using these cameras, after the operator has collected images in the field, they can connect to a computer via SD card, USB cable, WiFi, or Bluetooth to transfer the image files to a desktop, laptop, or mobile device. GTS provides software along with their cameras that will automatically convert the digital image files into various formats that can be used for reporting and mapping. A standardized report template is also automatically generated by the software which is auto-populated with the associated images and their attribute information (e.g. date, operator's name, mission type or job ID, etc.).
"The focus for GTS is the customer's workflow," said Andy Shannon, Sales Manager for GTS. "Whether our customers need low cost and rugged compact cameras for teams to capture hundreds of geo-tagged images at a time, or they need a powerful DSLR with high image quality that can collect object location and memo tags, we want to be able to offer them a simple solution that fits those needs," Mr. Shannon continued.
GTS plans to target their new line of Canon GPS cameras and supporting technology at organizations that deal with large amounts of photographic data and have a need to more easily manage, map, organize, and report that information for internal and external use.
About Geo Tactical Solutions
Geo Tactical Solutions is a Service-Disabled Veteran-Owned Small Business (SDVOSB) that provides advanced end-to-end photo intelligence solutions to military, federal, and commercial customers.
###