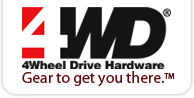 Columbiana, OH (PRWEB) December 07, 2011
4Wheel Drive Hardware, the nation's largest mail order and Internet distributor of Jeep parts and accessories, is offering Jeep enthusiasts a series of 12 daily deals December 7-18, 2011. 4WD.com will reveal a new deal daily, and each will be available in limited quantities and for a limited time period. Jeep enthusiasts looking for holiday bargains should check the site daily for new offers. The series of daily deals is scheduled to allow for order delivery prior to December 25. 4Wheel Drive Hardware has named the campaign "12 Days of Crazy Deals."
4Wheel Drive Hardware also publishes a gift guide that includes a wide selection of ideas for holiday shoppers. The guide categorizes Jeep gift ideas by price point, so shoppers can quickly find Jeep-themed products for the right price. The options range from 4Wheel Drive Hardware beanies to Jeep seats and recovery winches. Shoppers who aren't sure what to get can always select a 4Wheel Drive Hardware gift card or instant gift certificate; these are available for as little as $10. The instant gift certificates, which can be printed out immediately after purchase, are ideal for last-minute shoppers.
4Wheel Drive Hardware serves Jeep owners and enthusiasts with an industry-leading selection of Jeep accessories, including hard-to-find replacement parts and hardware. Off-road and Jeep enthusiasts can shop Jeep parts at the 4Wheel Drive Hardware showroom in Columbiana, Ohio or at 4WD.com. The retailer also supports its customers with a call center and a printed catalog. Jeep enthusiasts can request a free catalog of Jeep parts at 4WD.com.
The retailer stays in touch with its customers through events, promotions, and social media activity on Facebook, Twitter, and YouTube. Jeepers can learn about upcoming events and promotions on these social media sites or by visiting 4WD.com.
About 4Wheel Drive Hardware: 4Wheel Drive Hardware has been a leading provider of Jeep tops, Jeep fender flares lift kits, tires, and other Jeep parts and accessories for more than 30 years. 4WD.com has the parts and products needed for any personal Jeep project. For more information, visit 4WD.com or call 800-555-3353.
###