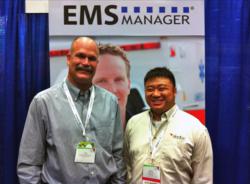 "It was an advantageous tool to see where we needed to put people in and where we needed to make coverage requests. For a week and half of scheduling, EMS Manager was excellent and we plan on using it again in the future."
- Pat Songer, EMS Director
Hudson, Wisconsin (PRWEB) December 08, 2011
Pat Songer, EMS Director for the Humboldt General Hospital EMS Rescue Department (HGH EMS), chose Aladtec's employee scheduling system, EMS Manager, to help coordinate their volunteer medical staff for the Burning Man festival. Having used EMS Manager for nearly 5 years at HGH EMS Rescue to handle shift scheduling and time management for his own staff, Songer felt that the easy-to-use EMS Manager was a natural fit for the event. The one week art experience was held in Black Rock Desert, 120 miles north of Reno, Nevada from August 29th through September 5th where nearly 50,000 participants gather to celebrate community, art, self-expression and self-reliance.
"It worked out really well for us," said Songer. "We used it like we use EMS Manager for our regular scheduling program with a couple minor tweaks. We employed about 300 volunteer doctors, nurses, paramedics, EMTs and other medical professionals for the event. After we approved them, we emailed them their EMS Manager login info so they could begin submitting availability while administrators went in and approved shift times, usually within 24 hours. It was an advantageous tool to see where we needed to put people in and where we needed to make coverage requests. With EMS Manager being online, casual call volunteers could see what times were available."
Not only did HGH EMS Rescue provide advanced life-support ambulance service within the created Black Rock City, a 2,000 square foot medical clinic was open 24/7 during the entirety of the event and handled all ground transports to Reno hospitals. The mobile unit included 32 beds and laboratory facilities. Six advanced life-support ambulances were on-call around the clock. Songer said they prepared for all kinds of incidents that could take place in a city that size. They were extra prepared for heat-related incidents as temperatures over 100 degrees is common in a desert-scape like that in the temporary city. In total, over 2300 patients were seen and 33 transports were taken off the playa.
While EMS Manager is a familiar tool for EMTs and Paramedics, it was a new experience for some of the doctors and nurses that were also scheduled using EMS Manager. "Everyone picked up very quickly how to submit availability and sign up for shifts. They were very happy to go online and see the schedule from anywhere and at anytime," said Pat Songer. "For a week and half of scheduling, it was excellent and we plan on using it again in the future."
###
Aladtec, Inc. is a provider of web-based software solutions for employee scheduling and workforce management applications. The company's flagship products, EMS Manager and FIRE Manager, are leaders in the public safety sector and together serve more than 750 EMS and fire departments, and more than 45,000 employees. Aladtec is headquartered in Hudson, Wisconsin. For more information, visit http://www.aladtec.com.
CONTACT INFORMATION:
Aladtec, Inc.
906 Dominion Drive
Hudson, WI 54016-4538
(888) 749-5550 Toll-Free
(715) 690-2300 Phone
(801) 406-5550 Fax
info(at)aladtec(dot)com | http://www.aladtec.com
###