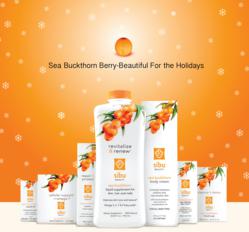 Sibu Beauty is one of the fastest growing skin care lines available on the market.
Salt Lake City, UT (PRWEB) December 07, 2011
Sibu Beauty, is helping shoppers get the holidays all wrapped up with a fantastic array of sea buckthorn berry-based beauty and wellness products that provide vitamins, nutrients and essential fatty acids via their entire line of topical and ingestible products. And, for the entire month of December, shoppers with orders totaling $30 or more will receive a full sized Sibu Beauty Repair & Protect Sea Buckthorn Face Cream as a gift, a $20.95 retail value by entering the code SB4FREE during checkout.
The 100% natural line is priced from $6.95 to $39.95. Sibu Beauty is one of the fastest growing skin care lines available on the market and is packed with Himalayan sea buckthorn berry, a nutrient-rich combination of over 190 bio-actives, vitamins and is a powerful source of Omegas 3, 6, and 9, as well as a rich source of the elusive, naturally occurring essential fatty acid, Omega-7 (Palmitoleic acid), which is vital to the health of skin, hair and nails plus collagen and mucus membrane production.
All Sibu Beauty products earned the PETA Cruelty-Free Certification and contain no parabens, dairy or wheat.
Sibu Beauty products can be purchased online at Sibu Beauty's Online Store where shoppers can also take advantage of a 20% off coupon by entering the code SIBUONETIME during checkout anytime between now and December 31, 2011. Sibu Beauty products can also be purchased at many leading retailers including select GNC stores, Whole Foods Markets, Akins Natural Food, Chamberlin's Market, Sprouts, New Seasons and Sunflower Markets, as well as hundreds of specialty retailers throughout the U.S. and Canada.
For more information about Sibu Beauty and the health benefits about the powerful and nutrient-rich sea buckthorn berry, please visit http://www.sibubeauty.com.
About Sibu Beauty
Sibu Beauty (http://www.sibubeauty.com) was introduced in early 2009 to provide customers worldwide with a comprehensive approach to beauty from the inside out and outside in. The Sibu Beauty product line is based on a powerful and distinctive whole food source, the sea buckthorn berry. This super food is backed by hundreds of scientific studies demonstrating its success at addressing a variety of consumer needs including improved skin tone and texture, healthy aging and digestive health and noticeable improvements in cardiovascular fitness, energy and weight loss.
About Sibu, LLC
The products of Sibu Beauty - a subsidiary of Sibu, LLC (http://www.sibu.com), and "The Sea Buckthorn Company" - are made with only premium sea buckthorn berries exclusively grown and harvested for the company in the Himalayan Mountains of Tibet. The company's meticulous harvesting process results in a more hardy and potent berry. Sibu's proprietary manufacturing process maximizes the efficacy of sea buckthorn raws, producing one of the most nutrient dense sea buckthorn products available on the market today. The Tibetan villagers who are responsible for harvesting Sibu Beauty's sea buckthorn berries benefit from a fair trade agreement, safe and healthy working conditions and environmentally responsible practices that ensure they will enjoy the benefits of the sea buckthorn harvest for years to come.
###