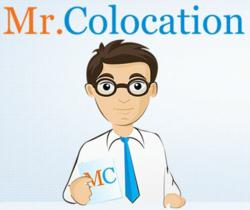 San Diego (PRWEB) December 13, 2011
Mr. Colocation, a leading provider of data center related consulting services on the west coast, announced today the grand opening of their new website, http://www.mrcolocation.com. The new website offers consumers in the greater San Diego and Phoenix metropolitan areas assistance in locating the best value and high quality options for colocation and data center-related services. Mr. Colocation offers extensive knowledge and experience, helping businesses of all sizes relocate their data center needs. The company also offers sustainable options for disaster recovery, business continuity, cloud computing, dark fiber, metro Ethernet circuits, and managed services.
"Mr. Colocation has grown to the point where we began to consider opening up our services to the public. At the same time, we made the choice to put together a professional website to promote our business," said Josh Holen, founder of Mr. Colocation. Mr. Holen continues, "constructing a new and engaging website was the ideal solution for us to provide information on the various consulting services we provide. At this time, we are proud to announce the grand opening for http://www.mrcolocation.com – the premier source for San Diego and Phoenix colocation knowledge and service."
The new website offers readers and consumers the latest news and information in the colocation industry. Visitors can also follow Mr. Colocation on Twitter (http://twitter.com/MrColocation) as well as on Facebook (http://www.facebook.com/MrColocation). In addition, Mr. Colocation offers readers and consumers a basic understanding of cloud computing, as well as a variety of industry-related news and technology updates to engage readers as well as educate them.
The business aspires to connect people with the best facilities for their IT hardware needs as well as provide multiple options for connectivity circuits and DR/BC planning. As an added benefit to the customer or consumer, Mr. Colocation does not charge users for their consulting services, offering an added value to it's clients and visitors.
San Diego colocation is necessary for small, medium, and large businesses because it helps reduce the complexity of infrastructure management while creating operational efficiencies. Colocation also provides cost predictability in an area that oftentimes has frequent, expensive, unexpected costs, while providing a facility with full-time professionals with strict security and 24x7 network monitoring.
Mr. Colocation was founded in June of 2011 by industry veteran, Josh Holen. Josh Holen boasts nearly a decade of experience working in the data center industry and is a well connected entrepreneur on the west coast with many high level IT contacts. If you have any questions or need advice please visit http://www.mrcolocation.com
###