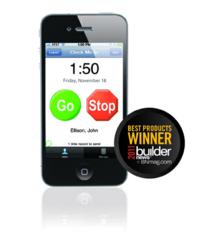 We were impressed by the latest generation of ExakTime's software. It's one of the most innovative products we have seen in some time.
Los Angeles, CA (PRWEB) December 08, 2011
BUILDERnews, the national residential and multifamily media brand for builders, developers, contractors and designers, announced the winners of its annual Best Products awards today.
Each year, BUILDERnews' editorial staff undergoes a rigid and lengthy process to choose winners based on innovation and potential impact on the builder and remodeler for ease of use, competitiveness, upsell potential and product effectiveness.
"Even in a challenging economy, there are still hundreds of products released and bought to the market every year. This year's honorees represent some of the nation's most innovative products in the industry and ones that our editorial team felt readers would find most useful to build better and stay competitive in 2012," said D.C. Curry-Rothwell, CEO and publisher of BUILDERnews.
ExakTime PocketClock/GPS mobile software
"We were impressed by the latest generation of ExakTime's tracking software" said BUILDERnews' editor staff. One of the most innovative products the staff has seen in some time, builders, remodelers and contractors benefit from the mobile time and equipment tracking feature that runs on the most popular Smartphones and Tablets, so no additional hardware needs to be purchased. In a day of tight margins and heavy competition, BUILDERnews staff feels this can be a game-changer.
Workers login with their unique PIN number, and photo verification can eliminate "buddy punching". Crews can verify the job and assigned tasks on the jobsite, and GPS verifies exact locations of workers in the field. In addition, BUILDERnews' editor staff said the equipment tracking feature was a standout because it maintains a history of where – and how long – equipment has been used, which makes it easy for any contractor who's ever overspent on a piece of equipment or underestimated its service time to never make those mistakes again.
About ExakTime
ExakTime revolutionized time and attendance tracking for in-the-field applications in 1999 by introducing the rugged, all-weather JobClock® to the construction industry. Today, over 700,000 professionals clock in with The ExakTime System more than 1 million times each day. With continuing innovation including its PocketClock®/GPS software and its ClockPoint Connect, TimeSummit® and AccountLinx® products, ExakTime is remains the leader in time tracking solutions for construction and has branched into several other industries, including landscaping, snow removal and oil and gas.
More information about PocketClock/GPS and its features is available at
http://www.exaktime.com/pocketclock-gps or from Anthony Alexandre, anthony.alexandre(at)exaktime(dot)com, ExakTime, 27001 Agoura Road, Suite 280, Calabasas, CA 91301. Telephone: 877-647-9017.
To see the press release displayed from BUILDERnews, visit http://www.bnmag.com.
###