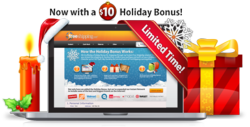 Companies that offer free shipping, especially during the holidays, are at a significant advantage.
Middletown, CT (PRWEB) December 07, 2011
Online holiday shopping sales continue to rise with a 15% jump over last year's pace. Cyber Week alone generated over $6 billion of sales and produced the three biggest online sales days in history, including $1.25 billion on Cyber Monday alone (according to comScore). Companies who offer free shipping and additional customer appreciation discounts are helping to drive this growth in online sales according to FreeShipping.com.
"Free shipping is a must for the majority of online consumers," said Tom Caporaso, CEO of FreeShipping.com. "Research shows that 60% of consumers are likely to cancel their order if free shipping isn't offered, and this year consumers expect even more than free shipping to earn their loyalty."
FreeShipping.com is responding by rewarding customers with a "Holiday Bonus" of $10 cash back along with free shipping when purchases are made through the FreeShipping.com portal which includes over 1500 partner websites. The Holiday Bonus offer is a way of giving back to consumers but free shipping remains the key to online sales success.
Per comScore, retailers see a 23% increase in traffic when a free shipping promotion is offered, and last holiday season, the percentage of online retailers now offering free shipping is over 57%.
"One of the biggest concerns retailers face is cart abandonment - consumers dropping out of their cart at check out due to shipping costs," Caporaso added. "Companies that offer free shipping, especially during the holidays, are at a significant advantage."
For more information on Free Shipping, visit FreeShipping.com
About FreeShipping.com
FreeShipping.com, a wholly-owned subsidiary of Clarus Marketing Group, was launched in 2002 as a members-only subscription service developed for avid online shoppers motivated by free shipping. Clarus is privately held and headquartered in Middletown, CT. Clarus Marketing Group provides innovative loyalty-based products which provide value to their membership base, merchant partners, and large client base. For more information about Clarus Marketing Group, please visit http://www.clarusmarketing.com.
###