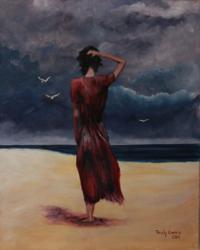 The current economy lends itself to Elexa Grey's purpose
Kernersville, NC (PRWEB) December 21, 2011
Elexa Grey, Inc. would like to announce the creation of its website: http://www.ElexaGrey.com. The website features hand painted art, gently used home décor, and items created from recycled materials. The Company began operations in Fall 2011 in Kernersville, North Carolina.
Elexa Grey also has sizable ambitions for a small start-up company. Asking potential customers to change their traditional mindset of 'new is better' is just the beginning. The North Carolina based Company wants to reintroduce consumers to forgotten objects - pieces that were chosen once - admired for a while - and now are being passed to a new owner. Items sold through Elexa Grey are accumulated through various channels, such as consignment stores, auctions, and personal relationships - one more way the Company intends to make a difference in its community.
BG Corvin-Robinson, President of Elexa Grey, believes the concept of representing older items with a fresh spin will inspire consumers to pursue alternative means for accenting their homes. "As the world goes green, we see Grey," has become the CEO's mantra. "We hope to become a one stop shop for environmentally responsible furnishings and real art," according to Corvin-Robinson.
So, what does 'real art' represent? "Anything that has been touched by the artist and signed, lends itself to being an actual art piece. It's difficult to call a photocopy of a print something special," stated Corvin-Robinson, "which so many people hang on the wall. Displayed art does not necessarily have to be a reused piece or a high end masterpiece. Art can be an expression of the time by ordinary people."
The Company is committed to offering 'real art' at a reasonable price. Presently, the featured artist on Elexa Grey's website resides in West Virginia. Each canvas is hand painted, signed, and dated. Prices range from $75 to $250.
Corvin-Robinson believes the current economy lends itself to Elexa Grey's purpose as well since home accents are becoming luxury purchases – a non-budgeted category in many U.S. households. As such, consumers want bargains. Buying slightly used merchandise can be the consumers' secret – although Elexa Grey hopes it does not stay a well kept secret.
Future plans for the small Company also include selling more household items created from recycled materials. However, these plans might still be elusive in the beginning months. Right now, Elexa Grey is adhering to St. Francis of Assisi's belief, "Start by doing what is necessary, then what is possible, and suddenly you are doing the impossible."
Elexa Grey can be found at http://www.ElexaGrey.com.
SOURCE: ELEXA GREY, INC.
###