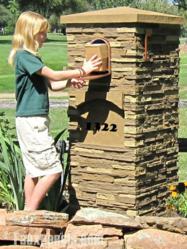 Online shopping deliveries ensure that residential mailboxes will continue regardless of the Post Office's fate.
Deer Park, NY (PRWEB) December 13, 2011
In lean times, everyone tightens their belt, but while the U.S. Post Office is cutting back service, consumers who want to improve their curb appeal are increasingly turning to residential mailbox columns as a design focus, according to the customer service department at Faux Panels.com.
Cutbacks in the number of operating service centers, overnight guarantees, and potential loss of Saturday deliveries were reported by the USPS in a Newsroom Press Release back in September. Earlier this month CBS News, BBC, Huffington Post and many other news outlets reported on the plan of action laid out to save the government agency from bankruptcy that worries many average citizens.
"Between orders and people asking questions in preparation for spring renovations, mailbox columns are still extremely popular and consumers are considering mailbox design as part of their exterior renovations. Our forecast for 2012 is very promising. Problems at the Post Office don't look to be a factor at all," said Ruth Barron, vice-president of FauxPanels.com
Analysts are correct that online banking, streaming video and e-cards are having a negative impact on Post Office revenue, but online shopping continues to be popular, especially among working families that aren't home waiting for deliveries. Cyber Monday results indicate higher sales this year than in previous years – and all those packages have to be delivered somewhere.
While the economy is showing signs of recovery, consumers are still cautious yet also want to give their exterior a facelift when spring arrives. Mailbox columns are an increasingly popular choice.
"Simple changes do mean a lot. A mailbox column can add a stately presence to the entrance of a property or become a focal point for a fresh exterior design," said Ruth Barron.
Mailbox Columns Update a Home's Exterior
Good mailbox design can add a strong visual element to any landscape. One can be placed in a strategic location or a mailbox column can be paired with a matching column to anchor the sides of a driveway or porch. Some columns even come with a solar panel kit for night time illumination.
"Mailbox columns are a great DIY project, which helps consumers save money," said Ruth Barron. "Even if someone decides to pay someone to install it, its easier, quicker installation reduces the labor costs, unlike stone columns."
Faux Stone Mailbox Columns Are Safer
Plus, faux stone and brick veneer residential mailbox columns meet new federal crash regulations for minimizing impact damage in the event of a car crash – something genuine stone can't do. They're also virtually maintenance free, which makes them the perfect choice for busy or aging home owners.
"Updating your mailbox design can provide a quick style change, the starting point for an extensive landscaping redesign or the final step in an exterior update," said Ruth Barron. "No matter which you're doing, you can get a lot out of it."
FauxPanels.com is an industry leader due to its wealth of installation guides for DIYers and the best selection of realistic faux brick, stone and wood panels and columns on the market. Its products have been regularly featured on television shows such as "Celebrity Apprentice" and numerous appearances on "Extreme Makeover: Home Edition." FauxPanels.com is a subsidiary of Barron Designs, Inc., a family-owned home improvement business operating since 1972. For more information, visit FauxPanels.com.
###