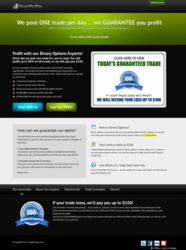 We only post on trade alert per day for our members with the goal of generating profits 70% of the time.
Phoenix, AZ (PRWEB) December 07, 2011
Recently launched, TradePerDay.com, offers binary options traders one trade per day which is guaranteed to produce profits.
Binary options trading have been popular in the European markets for some time, but have become a recent trading phenomena in the United States. In 2008, the Securities and Exchange Commission approved the listing of the simple investments in which there are two possible outcomes: make a predetermined amount of money or lose your investment. The investments can often yield between 70-90% within hours or even minutes, but those returns may easily become large loses.
With the increase in popularity, binary options traders are seeking reliable resources to guide them through the process and offer trading tips. TradePerDay.com offers a free alert service which sends its users one trade per day picked by their trading experts. The TradePerDay membership comes with a $100 guarantee that almost feels too good to be true. "We only post one trade alert per day for our members with the goal of generating profits 70% of the time," says CEO Tomas Walen. Walen explains that TradePerDay offers the $100 guarantee because they "know in the long-run, even the members with early losses will generate profits with our alerts."
TradePerDay is driving the binary options trend by attempting to convert all those interested in finance and investing into binary options traders. "After watching our 2 minute video, most of our members feel very comfortable executing our trade alerts, especially with the security of being backed by the $100 guarantee" Walen says.
In the upcoming months, TradePerDay plans on releasing new features, running promotions and opening their premium membership to select traders.
About TradePerDay
TradePerDay.com is an entity of 4most, LLC with offices in Scottsdale, AZ. TradePerDay offers binary options trading tips, guidance and daily trade alerts that are guaranteed to produce profits. Each user receives a $100 trade guarantee when executing the daily trader alerts.
###