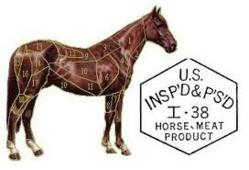 Horse Meat @ EurekaMag.com
Mannheim, Germany (PRWEB) December 08, 2011
The Science Magazine EurekaMag.com publishes articles in all areas of biological science including biology, agriculture, horticulture, forestry, geography, environment and health. Drawing from this pool of scientific disciplines, it publishes articles, reviews and insights on biological topics including those which have recently become popular. Most of these reviews are included in the Biology Articles Category and in the Scientific Reviews Category of EurekaMag.com.
The EurekaMag.com insight into tRNA covers Transfer Ribonucleic Acid which is 70 to 90 nucleotides in length and bridges the three-letter genetic code in messenger RNA (mRNA) with the twenty-letter code of amino acids in proteins. The article provides details of the role of tRNA in germination of plant seeds of wheat. It provides one example where ribosomal RNA (rRNA) was more heavily labeled than tRNA but was not preferentially accumulated, suggesting a greater rate of turnover of rRNA than tRNA. At later stages of germination tRNA end-labeling accounted for a minor fraction of adenosine incorporation. The rate of RNA synthesis increased after initiation of axis elongation to a maximum at 18 hours of germination. The article also provides a comparison of the tobacco chloroplast tRNA gene map to that of maize. This comparison showed many similarities, but also some differences suggesting that DNA sequence rearrangements have occurred in the chloroplast genome during evolution. This is supported by a study comparing the primary structures of soyabean chloroplast tRNAs with their Phaseolus vulgaris, maize and spinach counterparts which showed only few base differences.
The recent discussion on approval of horse meat for consumption in the United States forms the basis for a scientific review of horse meat at Eurekamag.com. Horse meat is traditionally consumed in many countries of Europe including Germany, Asia and South America. One problem of human consumption of horse meat is possible contamination with indospicine. Indospicine is a hepatotoxic amino acid that accumulates in the meat of horses that consume the legume Indigofera linnaei. Consumption of meat from horses which had developed Indigofera linnaei poisoning (Birdsville horse disease) is, consequently, problematic. Traditional analytical methods to determine indospicine concentration in biological samples using an amino acid analyser are time-consuming and therefore not suitable for the analysis of large numbers of samples. The article at EurekaMag.com covers a new rapid and reliable method which was developed for the analysis of indospicine in horse meat and serum using HPLC. Another problem with consumption of horse meat is its possible infection with the nematode parasite Trichinella spiralis. The article at EurekaMag.com covers the medical case of a patient who had eaten raw horse meat 10 days prior to onset of symptoms. Computed tomographic scan of the orbids showed bilateral proptosis and moderate ocular muscle hypertrophy. Following this case a total of 150 horses from private and industrial slaughterhouses were sampled with 1.25% positiveness of T. spiralis infection.
The EurekaMag.com insight into Mangosteen covers production of the tropical fruit in Indonesia where it is believed to have originated. Mangosteen is distributed over the entire archipelago of Indonesia, and it grows in compound garden and agroforestry-like garden, at lowland to up to 800 meters above sea level. The production center of mangosteen is in western Indonesia, including Sumatra, Java, Bali and West Nusa Tenggara. In these areas Mangosteen fruits are harvested year-round, however, main harvesting season is from September to April. The demand for mangosteen on the world market has increased markedly with an increasing number of fruits being exported to Taiwan, Singapore, Hong Kong, Malaysia, United Arab Emirates, Saudi Arabia, and the Netherlands. The long juvenile phase of trees and the short storage period / shelf-life are considered the major limiting factors in commercial development of mangosteen. The EurekaMag article provides examples of research and development initiatives to combat these difficulties.
The Science Magazine EurekaMag.com was launched in November 1998 as the online version of the French science magazine "Eurêka - Le magazine des sciences" published since 1995. During the past decade, it has emerged as a comprehensive aggregator of information on biology, on the applied life sciences agriculture, horticulture and forestry, on the earth sciences, on the environmental sciences, and on the health sciences.
The Science Magazine has recently been accredited by the Chinese Ministry of Information Industry with the registration number 案ICP备10204677号. The site delivers its content through a number of RSS feeds including a "Most Shared Content" RSS Feed and an @EurekaMag Twitter account. The @EurekaMag Twitter account currently features 44,992 tweets and 803 followers. The site accepts advertisements through the Google AdWords system.
###