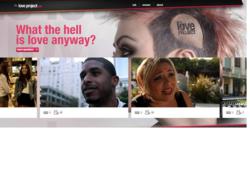 Los Angeles, CA (PRWEB) December 07, 2011
Muse Communications today announced the launch of The Love Project (http://www.theloveproject.tv), a grassroots experiment that gets to the heart of what love really means to people. The cultural endeavor features an interactive website with man-on-the-street interviews, as well as conversations with relationship and life coaches and community notables.
"Muse Communications has always shared our cultural expertise with our clients," states Jo Muse, chairman and chief creative officer at Muse Communications. "We decided to create The Love Project as a way to explore culture and share it with a broader audience. This site allows us to create something completely independent of client work, allowing us to flex our creative muscles, which ultimately betters our work overall."
The Love Project interviews are grouped by questions such as "What the hell is love, anyway?, "What's the difference between making love and having sex?," to "Is it possible to love everyone on this planet?". The surprising answers include one subject who discusses her love for her husband's child, who was conceived with another woman during her marriage. In another interview, a man states that he doesn't believe that it is possible for people to be monogamous in a long term marriage and another video features a young man who proclaims he is ready to marry his high school love, now.
The site features interviews tagged by topic and users will be able to watch videos in random order, or create their own playlist that they can then share with others. The interviews cover a variety of topics like dating, religion, family, race, sex, heartbreak, divorce and sustaining a healthy marriage. While the majority of the interviews consist of man on-the-street videos recorded by Muse Communications, users will have the ability to pose their own questions, as well as film and upload their own stories, which will be reviewed by the agency. To learn more about the experiment, visit http://www.theloveproject.tv.
About Muse Communications
Muse Communication's multicultural heritage adds a unique dimension to its clients' marketing intelligence. Muse Communications has received the Agency of the Year award from the American Association of Advertising Agencies, the Mercury Award for Best Radio Spot, the AAAA O'Toole Award for Multicultural Advertising, a CLIO Award, The Advertising Club of New York Andy Award of Excellence, Creative Show Silver Award, Gold Effie Award, Art Directors Club Award, Belding Award and the Hispanic Agency of the Year award from the American Association of Advertising Agencies. For more information, call (310) 945-4100 or visit http://www.museusa.com.
###