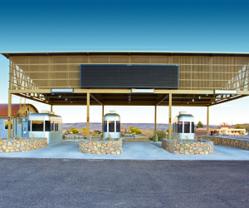 Los Angeles, CA (PRWEB) December 08, 2011
Decision-makers at Elephant Butte State Park in New Mexico, recently commissioned B.I.G. Enterprises, Inc.(http://www.bigbooth.com) to fabricate a series of revenue, and checkpoint booths modular in design, and reminiscent of the iconic Airstream travel trailers. In the perimeter security industry, B.I.G. is known primarily as a manufacturer of custom, pre-fab guard booths and shelters for high-security corporate and industrial sites. But their expert designers and fabricators aren't afraid to temporarily leave the familiar world of gun ports and ballistics resistance behind when charged with constructing more whimsical designs. So, the Airstream-inspired booths were just delivered to New Mexico.
Classic examples of American design ingenuity, the Airstream trailers symbolize adventure, exploration, and the freedom of the open road...the exact atmosphere State Park officials wanted their entry portals to create for their valued visitors.
Efficient and evocative, these modular units were fully-fabricated and ready to install, and included rounded-end, glazed windows as design components which aid visibility and complement the overall look and feel of the booths. A larger, fee booth of the same design, incorporates a comfortable restroom, and an office area. Capturing the Airstream look wasn't easy, but B.I.G. specializes in truly custom fabrication-work that many pre-fab manufacturers would not attempt to undertake. B.I.G. welcomes manufacturing challenges, and has worked with myriad clients to fabricate unusual and inventive designs for special applications.
B.I.G. booths, shelters, and security command centers are tough, innovative, and enduring. They are easy to install, and are significantly sound. They provide a platform for creativity, security, and maximum flexibility.
About B.I.G. Enterprises:
Since 1963, B.I.G. Enterprises, Inc. of California has engineered and manufactured a comprehensive line of high quality, high-end, prefabricated security and revenue control booths. Their state-of-the-art selection of pre-assembled buildings include guardhouses, cashier booths, portable shelters, and a variety of custom-made kiosks.
###