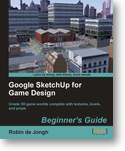 Birmingham, UK (PRWEB) December 07, 2011
Packt recently published its second book on Google SketchUp titled, "Google SketchUp for Game Design: Beginner's Guide." Through this book, author Robin de Jongh leads the beginner through the creation of a realistic 3D game world, complete with textures, levels, and props. The book shows newcomers to game development how to import their game art to game engines such as Unity 3D, alongside advice on how to sell low polygon 3D objects in game asset stores. There is also detailed guidance on photo-texturing models for ultra realism.
SketchUp is a hugely popular 3D modeling program marketed by Google and originally designed for architectural, civil, and mechanical engineers. Due to its ease of use and powerful tools, it is increasingly adopted by filmmakers and game developers. In 2006, Google announced the free to download version of Google SketchUp. The program, which is designed for ease of use, even allows for the placement of 3D models within Google Earth. Google's 3D Warehouse enables SketchUp users to search for, download and contribute free models.
Google SketchUp for Game Design: Beginner's Guide provides readers with simple steps to model realistic 3D environments, levels and props with SketchUp and Unity 3D. Readers will learn how to create cars, buildings, terrain, tools and the ubiquitous kind of props found in every 3D game, such as barrels, fencing and wooden pallets. The book acts as an aid in setting up a game level in Unity 3D creating a fully functional first person walk-around level.
The book enables designers to create 'game ready' textures from photos, discover tools for game-level and asset creation, and sculpt rough terrains using easy Sandbox tools in SketchUp. This beginner's guide takes the reader through modeling a 3D automobile with advanced tricks and techniques, adding lighting, and enabling anyone to walk around in their game level. The techniques learned in the book can be applied to importing one's game art into any freely available professional game engine like Unity 3D, Panda3D, Ogre, CryENGINE, Unreal Development Kit and Blender Game Engine.
The book is written for anyone who wants to create entire 3D worlds to play online or install on a PC or Mac. It also targets people who wish to create new levels and assets to sell in game asset stores, or to use in visualization or computer animation. For complete information about the book, please visit Packt's site.
Packt has developed other Google titles including:

Google App Inventor
Google Plus First Look: a tip-packed, comprehensive look at Google+
Google Apps: Mastering Integration and Customization
All Packt's Google titles can be found on the Google Books and eBook page.
###