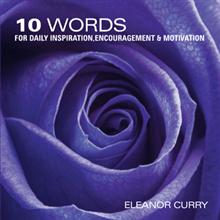 ST. LOUIS (PRWEB) December 08, 2011
With today's financial landscape, many are uncertain what their futures hold. In her new book 10 Words for Daily Inspiration, Encouragement & Motivation (published by WestBow Press), Eleanor Curry aims to help those struggling with life's challenges and uses the tenants of Christianity to show how to overcome adversity.
"It is important to know that it is okay to love and forgive and move forward with life," says Curry, "and to know and understand that the joy of the Lord is your strength."
An excerpt from the book:
"Forgive others and everyone that may have harmed or hurt you, let it go so that you can move on with your life don't stay stuck in the same mess or thoughts release it, release it, release it let go and let God. For if ye forgive men their trespasses, your heavenly Father will also forgive you: (Matthew 6:14) So that you can start to enjoy life and get excited about your future and what's to come and living life to the fullest."
10 Words for Daily Inspiration, Encouragement & Motivation will appeal to those who need encouragement and an extra push to move forward in God's love and in life, with joy in their hearts.
The book contains a number of Bible passages attributed to 10 different words that Curry hopes will help readers needing comfort and inspiration. She simply asks of readers to "put your trust in the Lord and stay strong in Him."
About the Author
Eleanor Curry was born in St. Louis, Missouri and lives in Illinois. She is a mother, daughter, sister, aunt and friend, who is always learning, growing and maturing in Christ every day. She is growing wiser and getting more understanding. Her goal is to encourage and uplift others by God's grace.
WestBow Press is a strategic self-publishing alliance of Thomas Nelson, Inc., the world's largest Christian publisher, and Author Solutions, Inc. (ASI) — the world leader in the popular self-publishing industry segment. Through this partnership, authors benefit from the rich publishing heritage of Thomas Nelson and the speed-to-market advantages of the ASI self-publishing model. Titles published through WestBow Press are evaluated for sales potential and considered for publication under the Thomas Nelson imprint. Thomas Nelson, Inc. continues to "inspire the world" with distribution of products in more than 100 countries worldwide. For more information, or to start publishing today, visit http://www.westbowpress.com or call (866)-928-1240. Follow us @westbowpress on Twitter for the latest news.
###