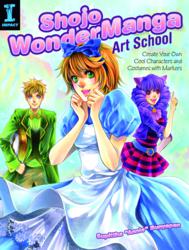 Whether you're just beginning or an experienced artist—grab a pencil, let your imagination go and start creating your own manga worlds!
(PRWEB UK) 7 December 2011
Love Manga? Take it to the next level with Shojo Wonder Manga Art School (ISBN 9781440308628, SRP £14.99) . With step by step instructions, the book shows how to create cool new characters in no time at all. Author Supittha Bunyapen, known to her deviantArt.com followers as Ecthelian, details every step of the process for creating the characters, scenes and special features that make manga magic.
In over 150 colour illustrations and 20 detailed tutorials the book covers basic tools and materials, as well as techniques for unique manga characteristics such as heads, bodies, poses, hair, costumes and accessories. Readers will learn how to draw and color 15 original characters in detailed step-by-step demonstrations, and 5 complete demos with finished backgrounds, some with multiple characters.
The book is filled with beautiful inspirational images from prolific manga artist Supittha Bunyapen herself. Bunaypen's style is clean and versatile moving easily from acrylics to watercolour to markers. With a solid grounding in gaming design, and thousands of web followers, she a great resource for creating great manga.
Available from December 2011
Ends
For further information including extracts or review copies, please contact Crystal Carter, FW Media Publicity, on 01626 323214 or email crystal(dot)carter(at)fwmedia.com.
###