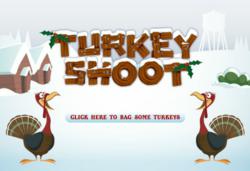 The festive collection enables users to send static and animated e cards to mailing lists of any size and gives companies a new way to send professional and smart looking e cards for a fraction of the cost of a bespoke ecard.
Teddington, Middlesex. UK. (PRWEB) December 08, 2011
Katie's Cards have created and released four fantastic brand new corporate e cards into their collection of high-quality, low-cost DIY company Christmas e cards. The festive collection, which enables users to send static and animated e cards to mailing lists of any size, gives companies a new way to send professional and smart looking e cards for a fraction of the cost of a bespoke ecard.
The brand new cards include the fantastic 'Runaway Turkey' corporate e card game which is a fun game involving a hungry farmer chasing a Christmas turkey. The player must help the turkey escape by jumping over obstacles in its path. The game is played and displayed above the uploaded company logo and weblink, making this a highly effective way of sending a festive message to customers whilst strengthening brand loyalty.
The 'Glowing Tree' ecard is a stylish and sophisticated business ecard for those who need to present a 'corporate' feel. The card begins with a twinkling star, it then moves around the screen leaving behind it glowing red and purple discs which gather together to form a glowing Christmas tree. As with the 'Runaway Turkey' Christmas ecard, the company sending the card can add their logo and weblink and seasonal message.
'Turkey Shoot Game' is also new and is a fun game to play. The aim of this game is to shoot leaping turkey's that jump randomly from behind different snow covered obstacles. The logo and weblink are displayed below the game.
The final new addition is the 'Festive Anagrams' ecard. This is a humorous corporate Christmas ecard with simple and clean animation and slightly edgy humour. The cheeky snowman rearranges the Christmas message to make funny anagrams out of the letters, but the letters try to take their revenge. This is perfect for companies who want to send a light-hearted ecard to their customers. As with all of the DIY e cards, they can be customized by uploading the company logo, message and weblink which displays underneath the ecard animation.
Using the online DIY system is a great choice for companies who want to send a high-quality e card at a very cost-effective price and also for as those who need to send their e card quickly. business ecards ordered from the Katie's Cards DIY system cost from as little as £95 GBP (€110 EUR, $148 USD, $145 AUD, $150 CAD) and can be sent in within minutes. The unique custom e card system also allows users to select their desired e card, add their message and weblink and upload their logo and mailing list, all with a few clicks of a button. The service itself is not available from other corporate e card website and offers customers the chance to purchase and send low-cost business ecards without compromising on quality.
Alongside this DIY system, Katie's Cards also produce bespoke business e cards for many large and small businesses, which includes adapting existing cards from the collection to fit a clients brief, or creating a completely unique corporate ecard featuring client specific content. They have also developed two micro sites for large corporate clients this year. The websites, branded and tailored for the organisations, offer staff and customers specially created, Bespoke Ecards to send. The clients based in Scotland and Canada plan to expand and develop the websites in 2012.
Katie's Cards have helped many large and small companies organize their Christmas e cards and can help with any query or problem. There is something to suit all budgets from static, animated or bespoke designs, all of which will incorporate a company logo, message and a web link. The cards deliver low-cost, quick and environmentally friendly solutions for businesses and are an original and entertaining way to communicate with customers. More information about the service can be found at katiescards.com/company/
For more information:
Telephone: +44 208 274 2069
Facebook: facebook.com/KatiesCorporateEcards
Twitter: twitter.com/#!/KatiesCorpEcard
Copyright information: This article is free for reproduction but must be reproduced in its entirety, including live links & this copyright statement must be included. Visit katiescards.com for more services!
###