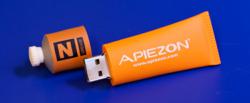 The team at Apiezon are really keen to get your feedback about Apiezon. Visit the blog today and tell us what you think.
(PRWEB) December 09, 2011
Winter 2011 is an exciting time for Apiezon; the team have recently launched the APIEZON SHOP and are now extending their technical support by entering into the world of social media and blogging.
The APIEZON BLOG is not only a useful hub of technical information and insight into Apiezon HQ; it also provides a great opportunity to listen to feedback and share experiences. Traditionally Apiezon has been sold via distributors and M&I have had limited interaction with the people who really matter; the end users. The team are always looking at ways of improving their service and they believe that learning more about the customers and their Apiezon applications is a great way to do this.
The APIEZON BLOG can be found at http://blog.apiezon.com or accessed through our main website http://www.apiezon.com. Over the next few months the blog will consider different applications for Apiezon, discuss which greases to use and also give a light hearted glimpse at the team behind this successful brand. M&I would love to have feedback and to say thank you they are giving away their unique Apiezon N grease tube shaped USBs to the first 20 people that tell them about their Apiezon applications via the blog.
Apiezon is a range of high vacuum greases, sealants, lubricants and thermal contact media. To find out more about the products in the Apiezon range please visit http://www.apiezon.com or contact tel: +44 (0)161 864 5419; email: apiezonsales(at)mimaterials(dot)com.
# # #