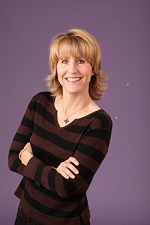 Colorado Springs, Colo. (PRWEB) December 07, 2011
James Obermayer, executive director of the Sales Lead Management Association (SLMA), announced the results of the voting for the Most Influential People in Sales Lead Management in 2011, with Laura McGuire, CEO of Colorado-based Saligent, taking top honors. "I personally know many of the phenomenally talented nominees," said McGuire. "Just to be named alongside them is a big achievement, so to receive the most votes gives us much to celebrate!"
Obermayer said, "These winners are recognized by their industry peers as multi-dimensional sales and marketing experts who give unselfishly of their time as speakers, teachers, and writers. They are power players in marketing and lead generation and come from many diverse disciplines including CRM and marketing automation software, telemarketing, direct marketing, and publishing."
"I've known Laura's companies since the 1990s," said Obermayer. "Saligent is a rare breed of solution provider who covers the sales lead management landscape from process design and consulting to providing and configuring their proprietary and third-party web applications to executing their clients' integrated marketing campaigns — whether online, phone-based or using print media."
Saligent client and co-founder of STORServer John Pearring, said, "Laura and Saligent definitely have our vote! We've been impressed with how quickly and effectively they've helped us model and install our new lead management process. Their expertise has led to promising results and an increased confidence in our lead management investments." Pearring adds, "Saligent demonstrates a true passion for treating our prospects right as well as helping make our sales staff as productive as possible."
About Saligent
Saligent works with aspiring U.S. companies to establish proven processes in Sales Lead Management that ensure a steady flow of prospects that are "ready-to-buy." The company provides a comprehensive solution empowering its clients with state-of-the art business processes, the web tools that automate them, and the skilled staff to execute any or all program elements. Saligent quickly and cost effectively installs business capabilities that have immediate impact on its clients' revenue generating initiatives. They do this without clients needing to add sales staff or increase marketing budgets and, in fact, help them improve return on existing investments. For more information: http://www.Saligent.com, Nathan Fisk, nfisk(at)saligent(dot)com, 719-359-1244.
About the Sales Lead Management Association
The Sales Lead Management Association helps companies understand the critical business process of managing sales leads. The SLMA provides a comprehensive website and hosts its weekly SLMA Radio program. Membership in the SLMA is free. For more information about SLMA, call Sue Campanale at 714-637-6989.
###