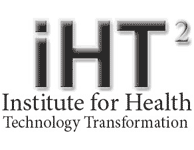 Never before have we seen so many opportunities for innovation and change in health care, largely driven by the integration and application of electronic personal health information
New York, NY (PRWEB) December 08, 2011
In June 2010, the Drug Enforcement Administration (DEA) released a long-awaited regulation on e-prescribing of controlled substances (EPCS) that removed a major barrier to use of the electronic prescribing and health care technology. To date, due to the difficulty of meeting the stringent DEA and certification requirements, significant costs, and the struggle to develop efficient two-factor authentication, very few HIT vendors and pharmacies have begun offering the ability to e-prescribe controlled substances. In an effort to be a catalyst to the nationwide implementation and adoption of EPCS, the Institute for Health Technology Transformation (iHT2) is hosting the first ever EPCS Leadership Symposium on April 17-18, 2012 in Washington DC, along with leading HIT vendors including presenting sponsor DrFirst, and security experts such as Experian and Symantec will be sharing their experiences, successes, and roadblocks with EPCS.
The EPCS Leadership Symposium will provide an opportunity for health care decision makers to gather, learn, and share the latest knowledge and advancements in the area of medication management, patient data security and the issues surrounding EPCS. The agenda will feature a preview of the latest clinical information technologies and strategies, panel discussions with industry experts, focus groups, and presentations on the latest e-prescribing issues and more.
"We are pleased to be the presenting sponsor for this first-of-its kind symposium focusing on the electronic transmission of controlled substance prescriptions," says G. Cameron Deemer, president of DrFirst. "As a company that has a laser-focus on positively benefiting providers in all our endeavors, this is a great opportunity to make an impact on the entire health IT industry on their behalf. By working together with iHT2, and some of the most well-known and respected professionals in the field, it is our goal to shed light on how to accelerate the adoption of EPCS by providing the insight and experience we acquired during the original EPCS pilot study in Massachusetts [performed under the auspices of the Massachusetts Department of Health, funded by a grant from AHRQ, and under a waiver from the DEA]."
The symposium aims to create a high level of awareness and education on electronic prescribing of controlled substances and healthcare security as well as encourage decision makers to reflect on the significance of EPCS and the implications it has for the healthcare industry as a whole.
"Never before have we seen so many opportunities for innovation and change in health care, largely driven by the integration and application of electronic personal health information," said Waco Hoover, CEO, Institute for Health Technology Transformation. "Attendees will have the opportunity to learn how to leverage EPCS and new technologies to improve clinical care."
Topics for the Symposium include: Pharmacy Adoption of EPCS, Chicken and Egg, Will Physicians or Pharmacies Go First?, Identity Proofing Methods and Issues, Penetration Prevention and Testing for EPCS, Token Selection, Implementation, and Management, EPCS and Fraud and Abuse, EPCS Impact for Hospitals and Communities, State and Federal EPCS Laws/Regulations, and more.
The two-day symposium is expected to draw 300 decision makers, HIT vendors, bloggers from the health care community, as well as policymakers from all levels of government. Participants should be committed to initiating and expanding EPCS within their organizations.
The early registration deadline for the conference is February 1, 2012. For more information on the program and details on attending, please contact:
Matthew Raynor
matt(at)ihealthtran(dot)com
561-748-6281
Or visit the conference website at http://ihealthtran.com/epcs2012home.html.
About the Institute for Health Technology Transformation
The Institute for Health Technology Transformation is the leading organization committed to bringing together private and public sector leaders fostering the growth and effective use of technology across the healthcare industry. Through collaborative efforts the Institute provides programs that drive innovation, educate, and provide a critical understanding of how technology applications, solutions and devices can improve the quality, safety and efficiency of healthcare. http://www.ihealthtran.com
About DrFirst
Founded in 2000, DrFirst is the nation's leading e-prescribing and solutions platform provider to physician practices, major health plans, health systems, hospitals, and EHR vendors. Through its Open Borders Program, DrFirst solutions integrate with over 200 EHR, practice management and HIT systems. A Surescripts Gold Certified solution provider for four consecutive years with its award-winning Rcopia electronic prescription management system, DrFirst utilizes the Surescripts network for pharmacy connectivity, health plan information, and patient medication history. For more information, visit http://www.drfirst.com. Keep up to date on DrFirst news at http://blog.drfirst.com/ or follow us on twitter at http://www.twitter.com/drfirst
###