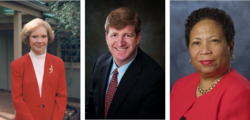 We're delighted to have these three prominent keynotes who are known for fighting stigma and supporting nurses and nursing.
Arlington, VA (PRWEB) December 08, 2011
The American Psychiatric Nurses Association is excited to announce a prestigious lineup of keynote speakers for its 26th Annual Conference November 7-10, 2012 in Pittsburgh, Pennsylvania. Former First Lady Rosalynn Carter, Congressman Patrick Kennedy, and nursing leader Linda Burnes Bolton, RN, DrPH, FAAN will each deliver keynote addresses during the conference. "We're delighted to have these three prominent keynotes who are known for fighting stigma and supporting nurses and nursing," says APNA President Marlene Nadler-Moodie, MSN, APRN, PMHCNS-BC.
During the Carter administration, former First Lady Rosalynn Carter emerged as a driving force for mental health. Her position as active honorary chair of the President's Commission on Mental Health resulted in the passage of the Mental Health Systems Act of 1980. She later created and continues to chair the Carter Center's Mental Health Task Force, an advisory body of experts, consumers, and advocates that promotes positive change in the mental health field. Each year, she brings together leaders of the nation's mental health organizations to address critical issues at the Rosalynn Carter Symposium on Mental Health Policy. Mrs. Carter also works with Project Interconnections, a public/private nonprofit partnership to provide housing for homeless people who are mentally ill. She has written five books, including "Within Our Reach: Ending the Mental Health Crisis" (with Susan K. Golant and Kathryn E. Cade). Mrs. Carter will speak at the conference on Thursday, November 8th.
Congressman Patrick Kennedy, a recognized leader in advocating for health care reform, will deliver his keynote address during the conference's opening ceremony. "We look forward to a motivational and inspiring talk from Patrick Kennedy, a passionate advocate for mental health" says APNA President Marlene Nadler-Moodie, MSN, APRN, PMHCNS-BC. Patrick Kennedy is founding member of the 21st Century Health Care Caucus; the Addiction, Treatment, and Recovery Caucus; and the Down Syndrome Caucus. He also authored and co-sponsored dozens of bills to increase the understanding and treatment of neurological and psychiatric disorders throughout his political career. As a member of the Military Construction and Veterans Affairs Appropriations Subcommittee, Congressman Kennedy led the fight to increase funding for veterans' health care and enhance the quality and availability of services for soldiers and veterans with Traumatic Brain Injury and Post Traumatic Stress Disorder (PTSD). Since leaving office in January 2011, Patrick Kennedy has devoted himself to fostering neuroscience research, studying illnesses such as depression, addiction and PTSD, which afflict close to 100 million Americans today.
Linda Burnes Bolton's four-decade career has been characterized by a dedication to improving access to health care and advancing nursing practice. Dr. Burnes Bolton's professional experience includes positions as a staff nurse, clinical nurse specialist, public member of government advisory boards, healthcare executive, community and public health nurse, university faculty, and consultant. She is a past president of the American Academy of Nursing (AAN) and the National Black Nurses Association (NBNA). Most recently, she effected change on a national level as vice chair of the Initiative on the Future of Nursing, a two-year joint effort of the Robert Wood Johnson Foundation and Institute of Medicine to identify solutions to the challenges faced by the nursing profession, and improve the quality of and transform how healthcare is delivered in the U.S. Dr. Burnes Bolton also recently chaired the National Advisory Committee for the Transforming Care at the Bedside Initiative, also coordinated by the Robert Wood Johnson Foundation and the Institute of Medicine. She will give her keynote address on Friday, November 9, 2011.
In addition to three inspiring keynotes, the APNA 26th Annual Conference will offer more than three days of continuing nursing education centered around the theme Fighting Stigma. The APNA Annual Conference is the premier event for psychiatric nursing; more than a thousand professionals gather each year to advance the profession, share expertise, and champion mental health. Advanced practice nurses, generalist nurses, and psychiatric mental health professionals are invited to attend and/or share their expert knowledge through sessions or poster presentations. Those interested in presenting at the APNA 26th Annual Conference can expect a call for abstract proposals to be announced on the APNA website (http://www.apna.org) in January of 2012.
###