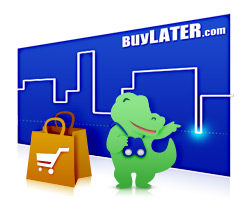 BuyLater is a perfect tool for tracking often out-of-stock items or just for watching for price drops. The quick notification system ... will ensure that you'll know as soon as the price changes or item becomes available. - Adam Pash, LifeHacker.com
Fairfield, Iowa (PRWEB) December 08, 2011
The holidays are here and everyone is looking for that perfect gift. In today's troubled economy, it's more important than ever to take advantage of all the great sales going on this season. There's a better, easier way to shop for sales during the holidays.
BuyLater is a new, free price tracking tool (install in seconds at http://BuyLater.com) that helps you stay out of the shopping frenzy and snatch up products the moment they go on sale. After a quick installation a 'BuyLater' button is added near the 'Add to cart' button on shopping websites including Amazon.com, Walmart.com, Newegg.com, Zappos.com, and more.
Shoppers simply click the 'BuyLater' button to track an item. As soon as the price drops they will automatically receive an email. BuyLater also gives shoppers the option to set a target price and receive an email only when the price drops below that point.
BuyLater integrates seamlessly into shoppers' existing online experience. Other price tracking services take shoppers off-site and require several steps to set up tracking for an item. BuyLater enables shoppers to track an item with a single click, without ever leaving the page they are shopping on.
BuyLater is the perfect tool for online shopping during the holidays or any time of the year. With BuyLater it's easy to be an informed shopper, which means less time in the shopping frenzy and more time at home with loved ones.
To learn more about BuyLater, visit http://BuyLater.com.
# # #